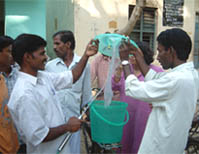 30 July, 2012
ACTION ALERT:Tamil Nadu Pollution Control Board — Do Your Job; Stop Illegal Expansion of Hazardous Unit in Chemplast Sanmar, Mettur Dam.
Save River Cauvery!
Issued by – Gonur West Agriculturist Development Union
Please send faxes and/or telegrams to:
Chairperson, Tamilnadu Pollution Control Board
76 Anna Salai, Guindy, Chennai 600 032
TNPCB Chennai fax – 044-22353068
044-24328603
Call/ send SMS texts to Member Secretary, TNPCB – 8056042101
District Environmental Engineer, Salem – 8056042229
Model telegram: "Stop unlawful construction of chemical plant within Chemplast Sanmar Plant II."
Chemplast Sanmar operates several chemical plants in Mettur Dam on the banks of the River Cauvery. It is now constructing a chemical plant without any permission from the local body or the Tamil Nadu Pollution Control Board. Concerned with the steadily degrading state of Tamil Nadu's rivers, the Government of Tamil Nadu had issued a Government Order in 1998 prohibiting the construction or expansion of polluting industries within 5 km of the River Cauvery. Other non-polluting industrial projects can be executed after obtaining permission from the Tamil Nadu Pollution Control Board under Air and Water Act. Facts about the illegal construction have been brought to the TNPCB's notice. But no action has been taken to stop the construction. Help stop the illegal construction before it is too late.
---
NO MORE BHOPALS: RAISE YOUR VOICE FOR THE PEOPLE OF CUDDALORE
As we near the Bhopal anniversary, youth activists from Chennai and residents of fishing villages are embarking on a 5-day 280km cycle tour from Cuddalore to Chennai. The tour will leave Cuddalore on 28 November and reach Chennai on 2 December.
Created around the time of Bhopal, the SIPCOT chemical industrial estate is notorious for its pollution. More than 19 chemical companies in the area spew poisons into the air all day long. Nestled among these industries are hapless villages that are trapped in what can only be described as gas chambers. Pollutant levels, including of carcinogens such as ethylene dichloride and vinyl chloride, are known to shoot up several tens of thousands of times above safe levels.
The cycle tour will wind its way along the villages of Cuddalore, Pondicherry, Tindivanam, Madurantakam, Chengalpattu and Chennai districts to reach Urur Kuppam — a fishing village in Besant Nagar at around 5 pm on 2 December, 2006.
SHOW YOUR SUPPORT FOR THE POLLUTION AFFECTED COMMUNITIES OF CUDDALORE
SEND AN ONLINE FAX URGING TAMIL NADU GOVERNMENT TO STOP POLLUTING CUDDALORE
Background:
Dec 3rd is the 22nd anniversary of the Bhopal Gas Disaster. While the primary goal of the Bhopal campaign is to provide complete justice for the gas affected in Bhopal, it is also vital that we make sure that such disasters do not happen again. It is sad that there are many industrial zones located amidst local communities thus putting the communities within minutes from a disaster. Communities around SIPCOT Industrial Estate is one such community doing the tightrope walk between life and death..
Set up in 1982 by the State Industries Promotion Corporation of Tamilnadu (SIPCOT), the Cuddalore Chemical Industrial Estate is located 8 kms south of Cuddalore town on the seaward side of the Cuddalore-Chidambaram Highway, stretching from Pachaiyankuppam in the North to Semmankuppam in the South. Phase I of the industrial complex spreads over 200 hectares (519 acres) and is set up to accommodate 53 units. Phase II covers 88 hectares (200acres) while Phase III of the complex will cover about 300 acres of land and is located about 26 km from Cuddalore town, near Periapattu village on the Cuddalore-Chidambaram highway. Currently, 22 functional units lie within Phase I of the industrial estate on the western bank of the River Uppanar. A few companies such as EID Parry, Arkema Peroxide, Clariant and Bayer operate outside the SIPCOT limits but in the vicinity of the Estate. These companies manufacture pesticides and intermediates, pharmaceuticals and intermediates, chemicals, plastics and plastic additives, dyes and intermediates and textiles.
Cuddalore is soon to become the pollution capital of Tamilnadu. Already, chemical industries in SIPCOT are discharging deadly effluents in the sea at Rasapettai. The sea near the effluent discharge point is deep red in colour. It won't be long before fish consumers begin avoiding Cuddalore fish because of the high levels of poisons in the meat. Agriculture is no longer practiced in and around the SIPCOT Industrial Estate, because indiscriminately dumped toxic wastes have poisoned the land and groundwater.
Now, the Tamilnadu Government has announced several destructive proposals, all of which use the sea as a dump for toxic effluents. Not only that, the proposals involve building structures in the sea that will impede free movement for fisherfolk and also present a serious hazard (due to explosion and toxic effects) to fisherfolk.
Additional Resources:
Report of the Public Hearing about SIPCOT, Cuddalore – public_hearing_report_cuddalore_sep06.pdf
Death of a Community Foretold : (video)
For any additional questions, please email sudarshan.suresh@gmail.com