M/S. Golden Fish meal and Fish Oil company, Sipcot Cuddalore is a repeated violator of environmental lisences and had been polluting the environment. Public protests and complaints resulted in shutting down of the company for a few months. 
The company was restarted recently. It has illegally stored its effluent in a pond inside its premises in an unsafe manner. This pollutes the land, groundwater environment in the Sipcot area. This kind of effluent storage activity is dangerous to workers as well.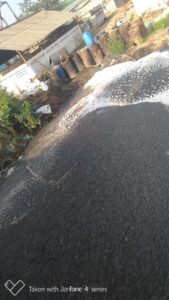 Illegal Effluent storage
The company's sister plant in Thondi, TamilNadu has been involved in the same illegal effluent storage activity which has resulted in the death of its worker this month. 
The SACEM monitors have made a complaint dated 3rd January 2021 on the violation to the District Collector, DEE of TNPCB, Cuddalore and Member Secretary of TNPCB, Chennai demanding necessary action against the violation and to protect the environment and workers.
Illegal effluent storage inside Golden fish meal and fish oil company