February 5, 2016
BS Reporter |Chennai
Business Standard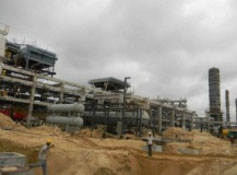 NOCL refinery: Work in progress
Singapore-based Netoil has earlier started confirmatory due diligence to acquire the project for Rs 3,600 crore
The Board of Directors of Nagarjuna Oil Refinery Ltd (NORL), which holds 46.78 per cent of the equity share capital of Nagarjuna Oil Corporation (NOCL), has said that the company is in talks with various potential investors interested in investing in the six-million-tonne petroleum refinery project of NOCL. This comes a day after it has decided not to pursue sales of its stake to Singapore-based Netoil, which has started a confirmatory due diligence to acquire the latter's stake.
In September, last year, the company said in a regulatory filing that a Confirmatory Due Diligence of NOCL was being undertaken by Netoil, to enable it to acquire the equity capital in NOCL in order to take forward the Petroleum Refining Project of NOCL.
As reported earlier, Netoil has agreed to acquire the project for Rs 3,600 crore and has signed a term sheet with major investors, the Nagarjuna Group, which holds 47 per cent, and Tata Sons and Tata Petrodyne, which hold 25 per cent in NOCL.
The 6 million tonne refinery is the first phase of a Rs 25,000 crore project in which the total capacity was expected to be around 12 million tonne, according to reports. The project was delayed due to damages caused by a cyclone some years back and also hit by the global economic slowdown later. Around 15 lenders have invested in the project and later the Banks sought Reserve Bank of India's dispensation in view of the assets likely to be classified by RBI as non-performing (NPA).
An official from the company said earlier that in Net Present Value (NPV) terms, if the VAT refund is Rs 18,000 crore, the company has to repay only Rs 15,000 crore in today's value. In other words, the company will receive its entire entitlement of VAT refund of Rs 18,000 crore at the rate of Rs 3,000 crore every year in the first six years after commissioning.
The company can utilise around 80 per cent of this Rs 3,000 crore, ie. Rs 2,400 crore every year for any purpose it desires, e.g. repay the debt, go in for expansion and modernisation etc. The company needs to keep only the remaining 20 per cent or Rs 600 crore in FD for 16 years and that is enough to repay Rs 3000 crore plus 0.1 per cent interest after 16 years, explained a senior official, who didn't want to be identified, earlier.
Nagarjuna Oil Refinery looking for investors to take over Cuddalore project