July 29, 2017
Vinay Umarji
Business Standard
Govt urged the petrochemicals industry to focus on effective recycling, management of plastic waste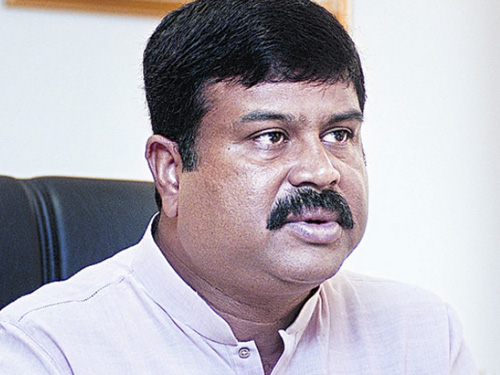 Union Petroleum Minister Dharmendra Pradhan
Gandhinagar: With some of the petrochemical industrial regions such as Paradip and Tamil Nadu not generating expected results unlike Dahej in Gujarat, the Government of India is in discussions of revising the Petroleum, Chemicals and Petrochemicals Industrial Region (PCPIR) policy.
Speaking at the sixth Petrochemicals Conclave at Gandhinagar, Rajeev Kapoor, secretary, department of chemicals and petrochemicals, Government of India said, "There is expected to be a shortage of petrochemical intermediates by 20 million tonnes by 2025. There is also lack of R&D and innovation in the sector. Except for Dahej, nothing much has happened in Paradip and Tamil Nadu PCPIRs. Hence, there is a need to relook at the policy for revision and the government is in discussions for the same."
Minister of State for Chemicals and Fertilizers, Mansukh Mandaviya said that the petrochemical complexes need strengthening in order to boost country's exports. "Chemical and petrochemical imports today stand at 10 million metric tonnes which is set to grow to 46 million metric tonnes by 2030. Import substitution of certain petrochemicals is the key requirement for sustainable development of the industry in the next 5-10 years. We have to look at ways to reverse the trend for India to become a net exporter of the same," said Mandaviya.
Mandaviya urged the petrochemicals industry to focus on effective recycling and management of plastic waste for building a positive perception on the use of plastics.
Union minister for petroleum and natural gas, Dharmendra Pradhan said that setting up of petrochemical clusters could help boost both consumption and marketing of end products. "Currently, the petrochemicals value chain is spread across various regions which could be brought together into clusters to boost consumption and marketing. Already, with increase in the per capita income and discretionary spending, there has been a steady change in spending patterns, from products made of metals to those made of fibres and plastics, which are both economical and long-lasting," Pradhan added.
While India's per capita consumption of plastics at 10 kg per person is lower than the global average of 32 kg, the country's aggregated demand for petrochemicals stands at 38 million metric tonnes per annum (mmtpa), Pradhan. Between 2000 and 2016, India grew at nearly 14 per cent in polymers to stand at a 10 mmtpa.
The current petrochemicals market in India is estimated to be about 30 mmtpa while the average domestic per capita consumption of petrochemicals is about 22 kg per person. The total petrochemicals market in India is currently valued at approximately $ 50 billion. Driven by the rise in polymer demand, it is expected to grow at the rate of nine per cent annually to reach 40 mmtpa in consumption and $65-70 billion in revenues by FY 2019-20.
Out of India's petrochemicals demand of 30 mmtpa, the demand for polyolefins, used in industrial packaging and household plastic products, is estimated to be around 10 mmt. Expected to grow at a CAGR of almost 8-9 per cent, polyolefin demand in India is expected to reach 22 mmt by 2026. Overall, the petrochemicals market in India is expected to grow at a CAGR of 1.5 times that of GDP in the next 10 years.
Meanwhile, speaking at the conclave, Nitin Patel, deputy chief minister of Gujarat said that petrochemicals had a big share in making Gujarat a model state with a high growth rate. "The annual turnover of the petrochemicals industry in Gujarat is Rs 5 lakh crore, supporting about 500 big industries, 1,600 medium and many small industries," Patel added.
Govt in talks to revise policy on petroleum industrial regions