July 26, 2014
The Hindu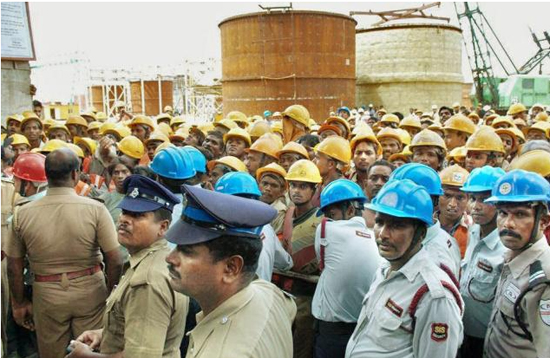 Two workers from Bihar died after they fell off the chimney of a private power company at Karikuppam near Parangipettai on Saturday. Another worker, also from Bihar, suffered multiple fractures.
Sources said that when the workers were carrying a pipe on a makeshift lift to the top of the chimney under construction, the cable wires snapped, and the device crashed on the workers.
The co-workers refused to take the bodies to hospital unless the IL&FS Tamil Nadu Power Company took all safety measures at the worksite and gave compensation to the bereaved families. They turned agitated when the police were called in.
Parangipettai Inspector Udayakumar suffered a minor injury in a melee after he tried to disperse the workers. Chidambaram Tahsildar Anbuselvi reached the site and promised them that their demands would be considered. Then, the workers allowed the bodies of Sonuraj Chaudhry, 26, and Muhit Khan, 31, to be taken to the Cuddalore headquarters hospital for post-mortem.
Vinodh Kumar, 21, was referred to a private hospital at Puducherry.
M. Nizamudeen, general secretary of the Consumer Federation-Tamil Nadu, said it was not the first fatal accident occurring in the company. On August 20, 2012, a worker from Bihar died after he fell off a chimney under construction.
He said such incidents occurred mainly because there was no supervision by the Inspector of Factories and workers were not given safety gear. The IL&FS Tamil Nadu Power Company is establishing a 3,600-MW, coal-fired power plant at Karikuppam. The project will be executed in two phases.
Two workers fall to death from power plant chimney