29th November 2013
By Sruthisagar Yamunan
New Indian Express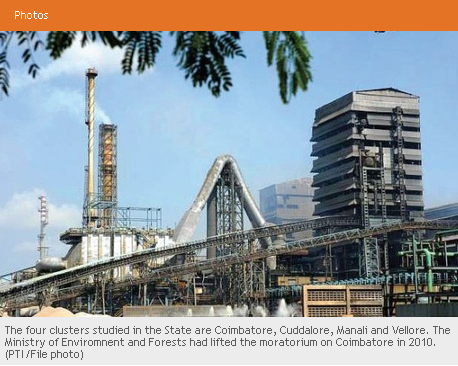 CHENNAI: The latest round of the Comprehensive Environmental Pollution Index (CEPI), a parameter used by the Ministry of Environment and Forests (MoEF) to decide on moratoriums for activity expansion in industrial clusters across the country, has put three of the four such major clusters in Tamil Nadu in the 'critically polluted' category yet again.
The four clusters studied in the State are Coimbatore, Cuddalore, Manali and Vellore. The Ministry of Enviromnent and Forests had lifted the moratorium on Coimbatore in 2010.
The same happened to Cuddalore in February 2011, after the CPCB and the TNPCB certified that the pollution index for the cluster has dropped to 54 from 77.5 in 2011.
The moratoriums on the other two critically polluted clusters – Vellore and Manali – continued. But now, based on the latest CEPI scores, the MoEF, in an Office Memorandum on September 17, has lifted the moratorium in place on Manali since it has shown a decreasing trend in the CEPI index compared to 2011.
On the other hand, the freeze on environment clearances in Vellore has been extended as no considerable change in the figures is visible over the last two years.
Activists, however, point out that there is complete lack of transparency in both the drawing of the CEPI as well as the issuance of the moratoriums.
According to Shweta Narayan, an environmental activist, in case of Cuddalore, the index has shot up from 54 in February 2011 to the current 70.12.
"Despite a substantial increase in the pollution levels, moratorium has not been extended to Cuddalore. We do not understand the rationale behind the move," she said, adding that the figures themselves could be a gross under-estimation of the actual pollution levels on the ground.
In fact, even as early as November 2011, the index for Cuddalore touched 78 in an interim report filed by the CPCB.
"The lifting of the freeze helped several huge industries expand in the meantime," she pointed out. Officials of the Tamil Nadu Pollution Control Board (TNPCB) refused to comment.
3 TN Clusters 'Critically Polluted' Again