CUDDALORE, 18 December 2015
Prameya News7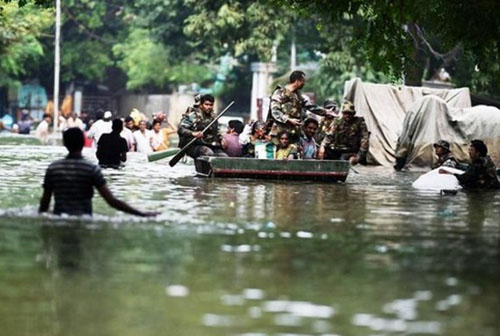 Tamil Nadu: With huge tracts of paddy, cane and tapioca plantations under a thick sheet of shiny red sand, vast swathes in Cuddalore district of Tamil Nadu resemble a desert landscape after the devastating deluge.
Having repeatedly weathered natural disasters like Tsunami and cyclones in the years gone by, Cuddalore is fighting, yet again, to stand on its feet after the recent floods that claimed 49 human lives and inflicted heavy damage to standing crops, cattle and infrastructure.
The farmers in Visur and Periyakattupalayam are now faced with the daunting task of not only pumping out the rain waters but also clearing the farmland of the thick sheet of sand, five feet high in some places.
"We just do not know how we are going to remove such huge loads of sand from our land even if water recedes completely," say C Balu and G Govindaraju, farmers of Visur and Periyakattupalayam respectively, in the Cuddalore hinterland.
For a small farmer like R Padmanban of Sundaraavandi with a land holding of just an acre, the problem is also about handling debts and making the ends meet when there will almost be no income. Farmers have also been burdened with the loss of cattle.
"Be it paddy, cane or cashew growers they are just hit hard as the deluge has damaged crops at the flowering stages ahead of the harvest," said President of the Cuddalore District Farmers Club Federation, P Ravindran.
In places like Kalkunam and Kurinjipadi, he says, there is "absolutely no chance for any crop harvest".
Apart from the death of 49 people, over 50,000 huts have been damaged during the floods in Cuddalore district where hundreds of families spent weeks together in relief camps. A large number of people are still living in those camps. Kondur area is still heavily inundated.
Cuddalore was ravaged by Tsunami in 2004 that had killed 640 people along the district's 57 km coastline. Since then, it has been hit hard by multiple cyclones including Nilam and Thane, and Cuddalore's cup of woes brimmed full with the recent rains.
Flood water is still being drained into a canal using heavy pumps in residential localities in and around Chavadi.
For the villagers of Periyakattupalayam who have been housed in a relief camp after the flash floods of November 9 which washed away ten people, their dream is to settle in pucca houses that could withstand natural calamities.
Across the predominantly agrarian district, the flood victims, both in rural and urban areas, want a robust mechanism to be put in place, including long-term measures, to prevent flooding and put rain water to optimum use.
Cuddalore struggles to be back on feet after floods