19 November 2013
A. SRIVATHSAN
The Hindu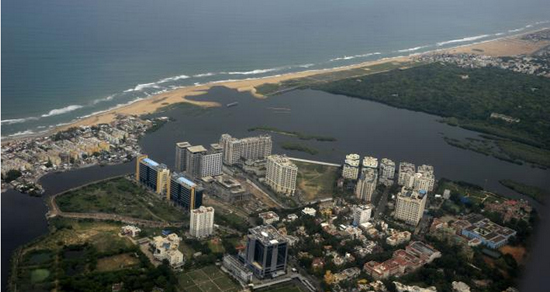 The coastal regulation zone notification, 2011, mandates the State government to prepare plans to regulate development along the coast and accommodate the long-term needs of fishermen
Photo: R. Ragu
Fishermen and residents had complained of inaccuracies in the plan and raised doubts about its usefulness
CHENNAI: The State government has postponed the public hearing on coastal zone management plan (CZMP) scheduled for Tuesday.
This comes after fishermen and residents complained of inaccuracies in the plan and raised doubts about its usefulness.
S. Rupeshkumar, president of Traditional Fishermen Association, said government officials tried to persuade them to attend the hearing with a promise to hold another one later. However, the fishermen refused and said they would agitate if the officials persisted with it.
The coastal regulation zone (CRZ) notification, 2011, mandates the State government to prepare plans to regulate development along the coast and accommodate the long-term needs of fishermen.
On Monday, the State department of environment uploaded three maps of Chennai CZMP along with other maps for the State. This comes after the residents raised questions about the hurriedly convened meeting without proper notification and dissemination of plans. They also complained about the lack of information in Tamil.
The uploaded maps indicate the location of the low- and high-tide lines (HTL) and demarcate the 200- and 500-metre lines from HTL, which are used for identifying different coastal regulation zones.
However, they do not contain information such as land use, and location of storm shelters and community facilities, which are essential for rescue and relief operations. There is no clear demarcation of fishing hamlets and plans to meet their future housing needs.
The maps are also inaccurate. For example, the maps show roads floating over river Adyar, and wrongly-located fishing hamlets east of Besant Nagar as being part of Santhome area. Similarly, it locates Chepauk on Island Grounds and roads run over Cooum river.
Mr. Rupeshkumar said officials gave the Tamil version of the plan on Monday, but it is not clear. The maps also contain many mistakes, he said. The leaders of various associations, including South Indian Meenavar Peravai and Tamil Nadu Meenava Makkal Sangam, have asked the government to postpone the public hearing until the issues are resolved.
Nityanand Jayaraman of Save Chennai Beaches Campaign, an organisation of residents to protect Chennai beaches, said the CZMP in its present form would not serve any purpose and to hold a public hearing based on it would be a farce. "It is good the government has decided to postpone the public hearing," he said.
However, sources in the department of environment have defended the holding of the public hearing. They said the maps were meant only to earmark the coastal regulation zones.
After hearing the views of residents and fishermen on the demarcation of zones, the meeting would have focused on other aspects of the plan. "We would have recorded their suggestions and accommodated them in the final plan," an official said.
(With inputs from K. Lakshmi and Deepa H. Ramakrishnan)
Public hearing on coastal management plans postponed