21 November 2010
A.V. Ragunathan
The Hindu
Capital dredging, redesigning of harbour among suggestions put forth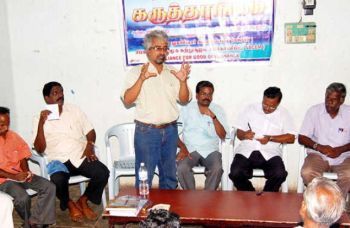 ASSESSMENT: Probir Banerjee of the Pondicherry Citizens' Action Network apprising environmentalists, social activists and fishermen on the problem of sea erosion on Saturday.
CUDDALORE: A significant part of the coastal area at Chinnamudaliarchavadi in Villupuram has been lost to the sea. According to a conservative estimate, at least 200 acres of land along the 10-km coastal stretch, off East Coast Road, has been gobbled up owing to sea incursion or sea erosion.
According to a study by Pondicherry Citizens Action Network (PCAC) in coordination with Federation for People's Rights, the 80-m-wide beach at Chinnamudaliarchavadi and two rows of fishermen tenements have vanished.
President of the PCAC Probir Banerjee told The Hindu that the study attributed this factor to two reasons: inconsistent dredging at the Puducherry harbour and construction of groynes. These structures had caused devastations along the Puducherry and Villupuram coast.
Sea incursion had become almost a common phenomenon, uprooting trees and pulling down the habitations of the fishermen, particularly on the Villupuram side.
The water aquifer had become saline thus spoiling the groundwater for a stretch of four km inland.
Mr. Banerjee said that the territorial government had spent Rs.20 crore on putting up these structures to safeguard the welfare of 150 fishermen.
But wittingly or unwittingly it had caused permanent loss of livelihood to 7,000 other families.
Social, economic costs
Had the harbour been properly dredged at an estimated cost of Rs.3 crore a year, things would not have come to such a pass. The environment, social and economic costs of this lapse were quite enormous and irreparable.
Mr. Banerjee said that the natural resources were the assets of the country but the way these were plundered was a cause for concern. If the trend was not reversed, over a period, the GDP (gross domestic product) would register a negative growth.
He noted that though the governments of Tamil Nadu and Puducherry were said to have reached an understanding to tackle the issue jointly, no progress was yet achieved on this front.
Therefore, the PCAC and the Federation for People's Rights, had appealed to the Union Ministry for Environment to find a permanent solution to the issue in coordination with Tamil Nadu and Puducherry governments.
They had also suggested the following measures: sand bypass system (a form of dredging) must be activated, capital dredging should be done and the harbour ought to be re-designed.
Fishermen apprised
Mr. Banerjee on Saturday apprised the fishermen, social organisations and consumer activists on the impending threat posed by the proposal to set up a clutch of private ports along the Cuddalore coast.
M. Nizamudeen of the Consumer Federation-Tamil Nadu said representatives of the SIPCOT Local Community Monitoring, Tamil Nadu Meenavar Peravai, Meenavar Viduthalai Vengaigal, Tamil Nadu Meenavar Padhukappu Iyakkam, Communist Party of India and Communist Party of India (Marxist) attended the session in which satellite pictures were presented to demonstrate the gravity of the problem.
Coastal community hit by sea erosion