March 28, 2013
The Hindu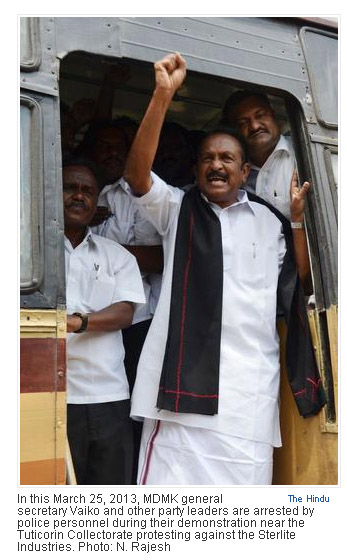 Marumalarchi Dravida Munnetra Kazhagam (MDMK) general secretary Vaiko and a group of people were arrested on Thursday after they attempted to lay siege to Sterlite Copper Plant in Tuticorin demanding its closure following alleged noxious gas leak, police said.
Mr. Vaiko said he had been fighting for the past 18 years for closure of the plant to protect the residents.
Farm lands had turned non-cultivable and fishery resources have been badly affected owing to pollution, Mr. Vaiko said, adding that there is no alternative, but to close the plant immediately.
He alleged that the leakage of sulphur dioxide from the plant had caused detrimental effects to public health and many people living in Tuticorin complained of suffocation, sneezing and burning sensation in their eyes.
Residents in Tuticorin were complaining of breathlessness and eye irritation for the last few days and they suspected leakage of noxious gas from the plant.
However, the company officials had on Wednesday said that its plant operations were "absolutely safe" and they adhered to highest standards of safety.
Vaiko arrested for attempting to lay siege to Sterlite