18 Apr 2012
Times of India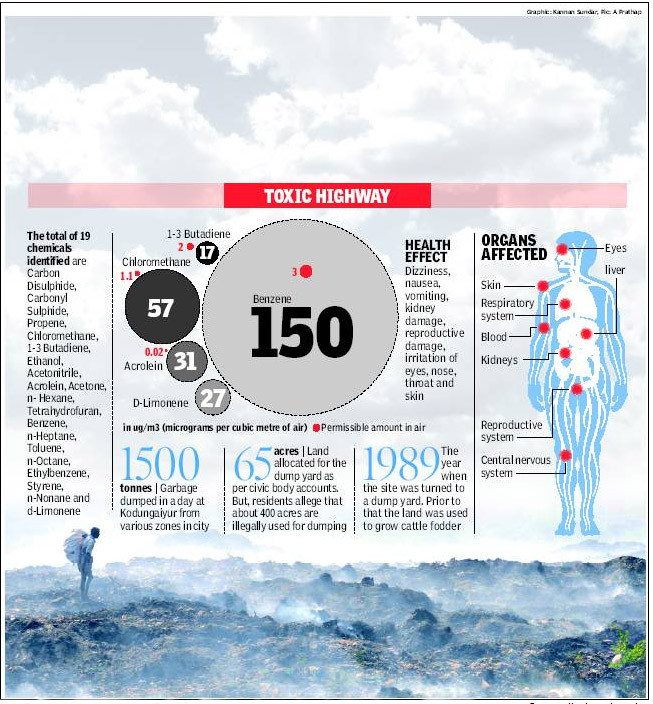 WHEN WASTE TURNS DEADLY: Garbage dumped at the Kodungaiyur site is often set on fire, polluting the air with carcinogenic chemicals.
Garbage Fires In Kodungaiyur Release Cancer-Causing Toxins: Study
Chennai: The burning of garbage in Chennai's dumping yards poses severe health hazards, even exposing residents of localities nearby to the threat of cancer.
Tests by Community Environmental Management (CEM) and Global Alliance for Incinerator Alternatives (GAIA) showed that air around Kodungaiyur dumping yard contains at least 19 toxic chemicals and carcinogens. Locals who have protested the burning of garbage at the dumping yards at Kodungaiyur and Perungudi said the air pollution had left them with respiratory disorders.
Addressing reporters here on Tuesday, environmentalist Nityanand Jayaraman said air samples had been collected 50 metres downwind of the dumpyard in Kodungaiyur in tedlar bags (containers made of inert material) on March 12. The air samples were sent for testing to Columbia Analytical Services Inc, which ran a series of tests on the samples as prescribed by the United States Environmental Protection Agency (USEPA).
The results revealed the presence of 19 chemicals, three of which are the carcinogenic 1-3 Butadiene, Benzene and Chloromethane. Among chemicals found in excessive levels were 1-3 Butadiene (8.5 times the safe level) and Benzene (50 times). The concentration of the chemical acrolein was 12.4 times higher than the levels considered safe by the USEPA for short-term exposure.
Responding to the test findings, activists said the Madras high court had in February, 2010 instructed the civic body and Tamil Nadu Pollution Control Board (TNPCB) to prevent burning of garbage in the dumping yards. They said they would include the test findings in the contempt petition being reviewed by the high court.
Perambur MLA A Soundararajan (CPIM), who resides next to Kodungaiyur dumping yard, has urged the civic body to find an alternative location as a garbage disposal site and implement zonal-level segregation of waste, to reduce the quantity of garbage.
"During tests in 2006 and 2007 also we found high levels of toxic chemicals," Dharmesh Shah of GAIA said. Corporation commissioner D Karthikeyan said that strict action would be taken against rag-pickers who burn garbage in the dumping yards.
A senior TNPCB official said the board does not have the equipment to monitor pollution in the area. "An ambient air quality monitor will be fixed in the area soon," he said.
Test Shocker; Killer Chemicals Lurk In The Smoke