February 22, 2017
By Zee Media Bureau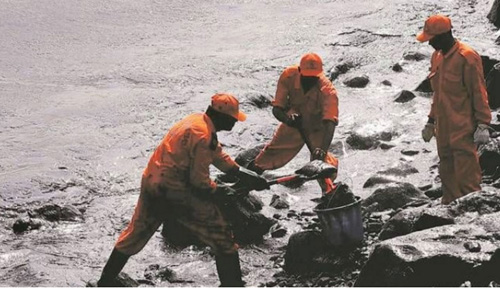 New Delhi: The nightmare involving the Chennai oil spill seems to get even frightening and upsetting with medical doctors issuing warnings about serious health hazards on those who helped clean the toxic sludge following the collision between two ships last month.
As per reports, a team of doctors and members of the Healthy Energy Initiative, India, has urged the government to continuously assess the health of all those involved in the clean-up operation, including the crew, fisherfolk and residents.
In its report on the health impact of oil spill, the fact-finding team said that it found a number of workers and residents complaining of various health issues, including skin, eye and throat irritation, tightness in the chest, cough, headaches, nausea and vomiting.
"The clean-up workers and the fishermen reported increased acute toxic systems primarily that of eye-irritation and respiratory symptoms like throat irritation chest tightness and cough, mainly on the first two days after the oil spill," said Dr Shruthee SG, a member of the fact-finding team, adding that in the long-term, the chemicals in the oil could lead to cancer.
The report said that workers involved in the clean-up operations without protective gear have higher chances of contracting cancer and health problems relating to the liver and kidney.
The team, which included three doctors, released the report after meeting more than 50 people, who helped in the oil clean-up operations on February 7, 2017.
"The most commonly occurring chemicals in the oil include Benzene, Toluene and Xylene (BTX). BTX are carcinogenic in human beings. Benzene is known to cause leukemia in humans, toluene can cause kidney and liver damage, and exposure to Xylene can lead to visual blurring, tremors, heart beat irregularities, paralysis," observed Dr Amaran M, another member of the fact-finding team.
They said the health camp set up by the state government a week after the spill did not record baseline health information of the clean-up crew, especially those who were involved in the early stages of the workers when exposure to the volatile chemicals was maximum.
Pointing out one of the major lapses in the clean-up process, the team added that no proper protective equipment was not provided to the oil spill workers and residents were unaware of the potential health effects of chemicals, putting them at high risk.
The report stressed that the government needs to conduct a regular health check-up on the workers exposed to the oil at least for the next one year.
"There also needs to be a long-term health monitoring system to detect the onset of new symptoms and trace the effects of these chemicals," Dr Shruthee adds.
On January 28, two shipping vessels – M T BW Maple and M T Dawn Kanchipuram – had collided outside the Kamarajar Port at Ennore, resulting in rupture of a ship and oil spill.
The seawater had blackened and some turtles were found dead near the north Chennai shoreline following the incident.
Chennai oil spill: Doctors warn of serious health issues, including cancer, for clean-up crew