The fisherfolk from kudikadu and nearby villages in the SIPCOT industrial area carry out fishing in the Uppanar river. In recent days, fisherfolk who continuously practice fishing particularly in the portion of the Uppanar river that is closer to the Kudikadu village report that they experience skin irritation and burning sensation while fishing. They sense a fouling public toilet- odour like smell in that area.
Moreover, the already polluted water from Echankadu canal meets the Kudikadu canal after which these both together immediately enter the Uppanar(paravanar) river. The junction portion of both the canals appear in red mud colour and also is reported to stink like a public toilet.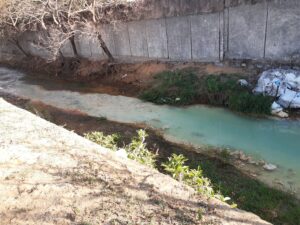 Contaminated Echankadu Canal
The fisherfolk in that area are concerned about their symptoms of skin irritation and burning sensation over their bodies and raise questions on the causatives of it. They also suspect if any of the SIPCOT industry's(ies') effluent is discharged illegally into the canal thereby leading to polluting of the Uppanar river.
The fisherflok have registered a complaint along with the photo evidence of the canal's pollution to the District Collector, DEE of TNPCB, Cuddalore and Member Secretary of TNPCB, Chennai demanding to conduct inspection and to take action in order to stop and prevent further pollution of the Uppanar river and protect their livelihood.
Skin irritation and burning sensation among fisherfolk of SIPCOT area