Chennai. 4 December, 2006 — Organisers of the Cuddalore to Chennai environmental awareness cycle tour have suspended the tour after one of the cyclists died in an untoward incident near Tindivanam on 30 November, 2006. K. Gurubalan, a student of Loyola College, who was part of the youth team that cycled in solidarity with the pollution impacted community in Cuddalore, accidentally drowned in a village pond during a rest stop about 18 km from Tindivanam.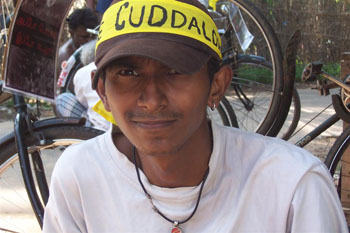 Gurubalan
The cycle tour had covered more than 100 kilometres and had departed from Pondicherry on 30 November morning. "Gurubalan is a particularly sensitive young man, who was deeply affected by the horrendous environmental condition in SIPCOT Cuddalore. Even while conveying our deepest condolences to his parents, we wish to remind people that he died while on a tour to fight for justice for pollution-impacted communities. His spirit and sense of justice will keep our fighting spirit alive", said SIPCOT Area Community Environmental Monitors (SACEM), a community group comprising Cuddalore villagers trained in environmental monitoring.
During an interview with a TV station a day before the incident, Gurubalan had expressed his intention to support the Cuddalore community's campaign against pollution by reaching out to more youngsters in Chennai.
"Being the kind of person he is, Guru would not have wanted his death to put the brakes on such an important environmental tour for justice. For sure, more youth from Chennai will rally around and join the cycle tour for Cuddalore as and when it resumes," said Guru's friend Anushka Meenakshi who was also one of the cyclists.
Cuddalore is a toxic hotspot, where existing industries have made life unlivable. Rather than mitigate pollution, the Government is planning to target Cuddalore residents with more and more polluting industries. Currently, the villagers are fighting a desperate battle to prevent the setting up of a PVC plastic factory by Chemplast Sanmar in Semmankuppam village. A 4000 MW thermal power plant, several textile dyeing industries, a 6 million tonnes per annum oil refinery and two schemes to pump toxic effluents from textile dyeing and leather tannery units are part of the industrial plans for Cuddalore.
Organisers and participants of the cycle tour have resolved that they will resume the cycle tour in January. In the interim, they plan to organize a first-aid training for youth and activists in Chennai. On 16 December, a seminar on "Ongoing Human Rights Violations in SIPCOT Cuddalore" will be held at the Madras Institute of Development Studies. On the same day, all cyclists and their supporters from Chennai will meet to discuss plans for resuming the cycle awareness tour, and strengthen the struggles for environmental justice in Cuddalore, Mettur and other pollution-impacted communities.
For more information, contact: Nityanand Jayaraman. 9444082401
International Campaign for Justice in Bhopal; The Other Media; Cuddalore District Consumer Protection Organisation, Youth for Social Change, SIPCOT Area Community Environmental Monitoring, DEPORT.
42A, 1st Floor, 5th Avenue, Besant Nagar, Chennai 600090
Environmental Cycle Tour Suspended After Young Cyclist Dies in Accident