Cuddalore, June 22, 2005: The residents of SIPCOT Cuddalore launched a massive signature campaign against the proposed Chemplast Sanmar PVC project. The signatures are being collected from all the areas around SIPCOT industrial complex and are being sent to Mr. A. Raja, Minister of Environment and Forests (MoEF). By the end of two days about 500 signatures were collected, people showed a lot of interest in listening to the matter and expressing their opposition to it. The opposition to the project was unanimous in all the four villages we visited; all the residents expressed their resentment over the current status of environment and the impacts of pollution from the industries on their daily lives. They reiterated the fact that they do not need anymore polluting, and water intensive unit in the area.

Villagers sign the petition
Chemplast Sanmar is trying to set up a 1, 40,000 TPA capacity PVC plant in the SIPCOT Phase II of Cuddalore. The proposal was first brought in 2001 and subsequently the residents of SIPCOT rejected it in a public hearing in June 2002. The proposal then moved to Krishnapatnam of Andhra Pradesh and eventually got rejected by the residents of that area too. Now once again, the project is being pushed for Cuddalore with a few cosmetic changes. The Expert Committee on Industries set up by the MoEF is meeting on 29 and 30 June 2005 to decide the fate of the project.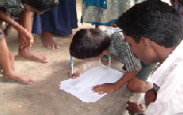 Photo 2: A fractured hand does not deter this child
to fight against the Company.
Read the fact-sheet/ petition on Chemplast PVC project and other
related stories here:
SIPCOT residents gear up for the fight against the Chemplast PVC project, launch a signature campaign