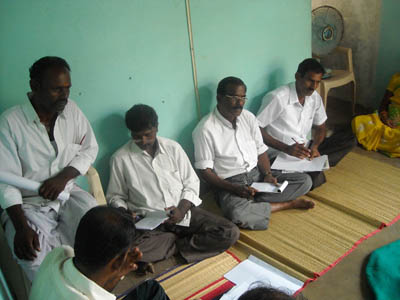 Mettur, 25 April 2010: About 20 residents including 9 women from various neighbourhoods in Mettur got trained in Community Environmental Monitoring (CEM) skills in order to monitor and report pollution related incidents and environmental violations of various industries in their region. Participants mainly from Green Park, Ramamoorthy Nagar, Saralakadu, Veeranoor, Kolipanni and Thankamaripattanam in Mettur Taluk were trained in CEM techniques over two days by members of SIPCOT Area Community Environmental Monitors (SACEM), Cuddalore. The training comprised of elements on understanding our environment, health, effects of chemicals on health, community mapping skills, various methods of reporting violation and taking action, understanding various laws like the Right to Information Act, provisions of Indian Penal Code on environmental violations and the Public Liability Act. SACEM monitors also shared with the group about their experiences from monitoring in SIPCOT Cuddalore.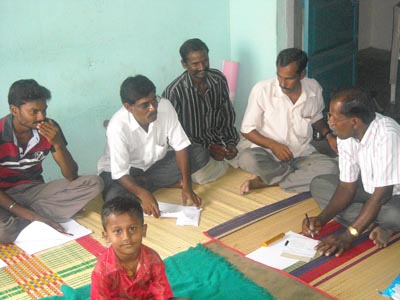 Mettur residents have been suffering the impacts of pollution from Chemplast Sanmar plants and coal yard, MALCO plant and coal yard, Mettur thermal power plant and chemical units of SIDCO. This training is an attempt for the residents to organise their efforts to generate more community data and patterns on the pollution and take effective action on the polluting units. More follow-ups are planned in the future by the group.
T. Arulselvam, S. Pugazendhi and S. Shivashankar of SACEM conducted the training.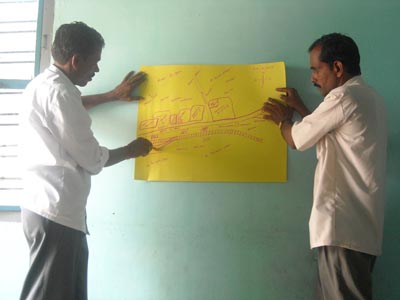 Mettur residents gear up to fight polluting industries; Get trained in Community Environmental Monitoring techniques from SACEM