Pond's
Hindustan Lever Ltd Ex-Mercury Employees Welfare Association Thiraviyam
Complex, Kamarajar Road, Moonjikal, Kodaikanal – 1
March 5 2006, KODAIKANAL — More than 300 people demonstrated today to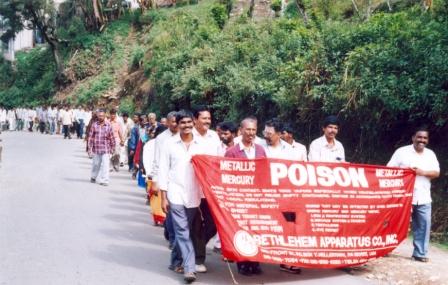 mark the 5th anniversary of the struggle for environmental clean-up and health rehabilitation against Hindustan Lever Ltd,  whose mercury thermometer factory was exposed in 2001 to have caused widespread pollution within and outside its factory. The workers said a recently approved proposal to allow Hindustan Lever to
decontaminate its machinery once again goes against science and established practice and puts workers in harm's way. The plan, approved by the Supreme Court Monitoring Committee and NEERI, will use mercury detectors that are not sensitive enough to detect harmful levels of mercury. Also, contrary to established practice, workers will only be given cotton gloves which are considered inappropriate for use with mercury because mercury penetrates cotton to reach the skin. A well-orchestrated expose by ex-workers and Kodai residents on March 7, 2001, revealed that HLL had dumped more than 7 tons of mercury waste in a scrapyard in town, and in the shola forests behind the factory. The factory was closed the same year. 
Protestors today also expressed solidarity with survivors of the 1984 Union Carbide disaster. The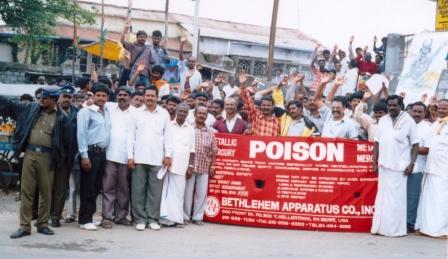 Bhopalis are currently on an 800-km Padayatra from Bhopal to New Delhi demanding clean water, clean environment, and medical and economic rehabilitation. The march began on 20 February and is expected to reach New Delhi around March 25. "We are also demonstrating in solidarity with the Bhopal to Delhi Padayatra. In Bhopal, as in Kodaikanal, the Government and the Polluter have colluded to deny victims what is  legally due to them," the Pond's HLL ex-Employees Welfare Association said. The protestors, mainly ex-workers from HLL and their families, say many workers and their families are suffering from a variety of ailments caused by mercury exposure.
They have condemned the Supreme Court Monitoring Committee on Hazardous Wastes and the Tamilnadu Pollution Control Board for approving unscientific, unsafe and demonstrably inadequate decontamination procedures, and allowing
the entire operation to happen without public involvement in contravention with the SCMC's own recommendations and the Supreme Court's orders. In August 2005, the SCMC emphasized involving the Local Area Environment Committee set up by it in assessing the project and feasibilityreports for decontamination of plant, machinery and HLL premises. However, on 21 February, in response to a Writ Petition filed against the ad hoc machinery decontamination begun by HLL, the SCMC Chairman said that the local people need not be involved.
Last month, the Madras High Court admitted a petition by ex-workers seeking medical rehabilitation and compensation for health damages sustained by them and their family members as a result of exposure to mercury. Skin and nervous disorders, kidney failures, dental problems and tumours are common symptoms among ex-workers and their families. "Hindustan Lever is like Union Carbide when it comes to avoiding liability and downplaying toxic hazards," the ex-Employees Association said. 
Issued from Chennai on behalf of Pond's HLL Ex-Mercury Employees Welfare Association by:
Corporate Accountability Desk, H19/4 Gangai Street, Kalakshetra Colony, Chennai 600 090
For more details contact: 
Mahendra Babu: +91 9443828569
Read related media story
New Kerala 06 March, 2006      
Ex-workers Mark 5 Years of Struggle Against HLL