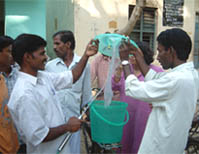 Save River Cauvery!
Issued by – Gonur West Agriculturist Development Union
Please send faxes and/or telegrams to:
Chairperson, Tamilnadu Pollution Control Board
76 Anna Salai, Guindy, Chennai 600 032
TNPCB Chennai fax – 044-22353068
044-24328603
Call/ send SMS texts to Member Secretary, TNPCB – 8056042101
District Environmental Engineer, Salem – 8056042229
Model telegram: "Stop unlawful construction of chemical plant within Chemplast Sanmar Plant II."
Chemplast Sanmar operates several chemical plants in Mettur Dam on the banks of the River Cauvery. It is now constructing a chemical plant without any permission from the local body or the Tamil Nadu Pollution Control Board. Concerned with the steadily degrading state of Tamil Nadu's rivers, the Government of Tamil Nadu had issued a Government Order in 1998 prohibiting the construction or expansion of polluting industries within 5 km of the River Cauvery. Other non-polluting industrial projects can be executed after obtaining permission from the Tamil Nadu Pollution Control Board under Air and Water Act. Facts about the illegal construction have been brought to the TNPCB's notice. But no action has been taken to stop the construction. Help stop the illegal construction before it is too late.
Tamil Nadu Pollution Control Board — Do Your Job; Stop Illegal Expansion of Hazardous Unit in Chemplast Sanmar, Mettur Dam.