16th March 2013
Deccan Chronicle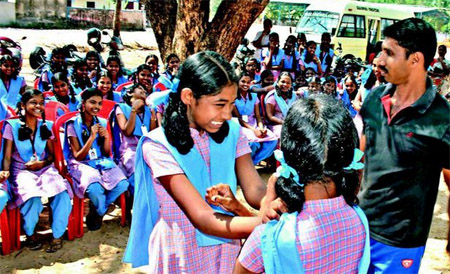 Photo credit: Deccan Chronicle
Chennai: As many as 25 school children along with activists from Kodaikanal are camping in Chennai demanding that the government take steps and excavate the soil polluted with mercury dumped in nearby forests by an MNC 12 years ago.
The corporate company was started in violation of norms, the activists said adding it was closed in 2001 following the expose and widespread protests leaving behind tonnes of mercury dumped in forests and around the thermometer plant. Unsafe disposal of mercury was not checked by the district administration and the PCB officials, resulting in mercury discharge entering the lake and food chain causing serious disorders, the activists told a press conference.
People are being continuously affected by the toxic substance, said Mr Mahendra Babu, a local resident and ex employee of the company. "Some of my friends have stunted growth in their ears due to the toxic effect after consuming food and contaminated water," said R. Rajasekar, a tenth standard student.
Kids fight against mercury dump