Apr 9, 2014
Soundaram Ramanathan
DownToEarth.org
NGOs organise community meeting to record grievances and demand action against pollution from Baddi Barotiwala Nalagarh industrial area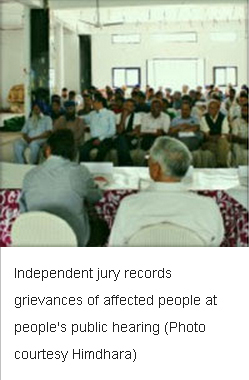 Close to 200 people affected by industrial pollution in Baddi Barotiwala Nalagarh industrial area in Himachal Pradesh attended a community meeting organised in Baddi last Saturday. The event was organised by local NGOs, Himdhara and Himparivesh, to record people's voices and demand action against industrial pollution in the area.
Baddi Barotiwal Nalagarh (BBN) is a booming industrial area in Solan district of Himachal Pradesh. The industrial area on the bank of the Sirsa river has a population of more than 100,000 people. The industrial area which was started with an investment of Rs 6.79 crore in 1984-85 along national highway 21 A, and has today grown into an investment of Rs 72.14 crore. Investments grew manifold after 2003, with the announcement of new tax subsidies (see graph below)
Industrial Growth in BBN industrial area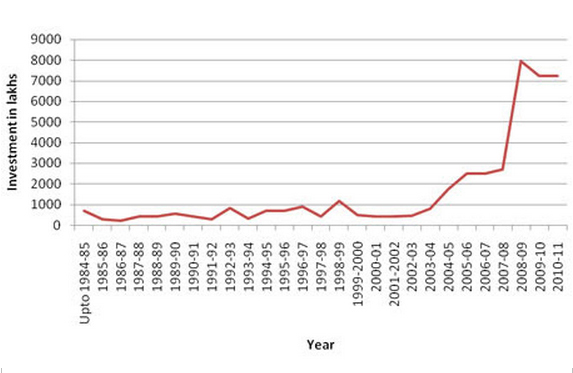 Source:(
dcmsme.gov.in/dips/District%20Industrial%20Potential%20Solan.pdf
) as viewed on April 8, 2014
The growth after 2003 was, however, rapid and unplanned. Today, more than 3,000 industrial units are operating in the area. The big ticket investors in the area include Alkem Laboratories, Glenmark Pharmaceuticals, Dr Reddys Indoco Remedies, Unichem Labs, Morepan Laboratories, Colgate Palmolive, Procter and Gamble, Hindustan Unilever, Cadburys and Johnson & Johnson.
This haphazard industrialization has directly affected about 21 panchayats, comprising 115 villages, says Rahul Saxena of Himparivesh. Affected people had previously complained individually against pollution but nothing happened. The organisers of the public meeting hope that collective complaints will lead to comprehensive pollution abatement solutions.
Close to 60 written complaints were given by people in the meeting and 25 oral testimonies were recorded. These included problems relating to illegal discharge of effluents, air pollution and dumping of hazardous waste along river beds, in farms and open spaces.
People complained against individual factories like Khurana Chemicals at Maganpur, Jaypee's cement grinding unit at Bagheri, Greenply unit at Panjhera, Kangra steel mill and Eastman's battery unit at Kripalpur, Amico Tex at Bir Palassi, Sara Textiles at Bhatiyan, Him Chem at Kheda, Vardhaman Auro Mills at Baddi and Gilvet Ispat at Jharmajri. Apart from these industries, the issue of mining from the river bed and pollution from stone crushers was also raised. People expressed their discontent over how they were made to run from pillar to post and absence of grievance redressal.
Air Pollution is a major concern in the area (see table). A lab study by Community Environmental Monitoring Campaign, a non-profit based in Chennai in 2010 revealed high levels of particulate matter, lead and manganese in the air. (see map)
Sample location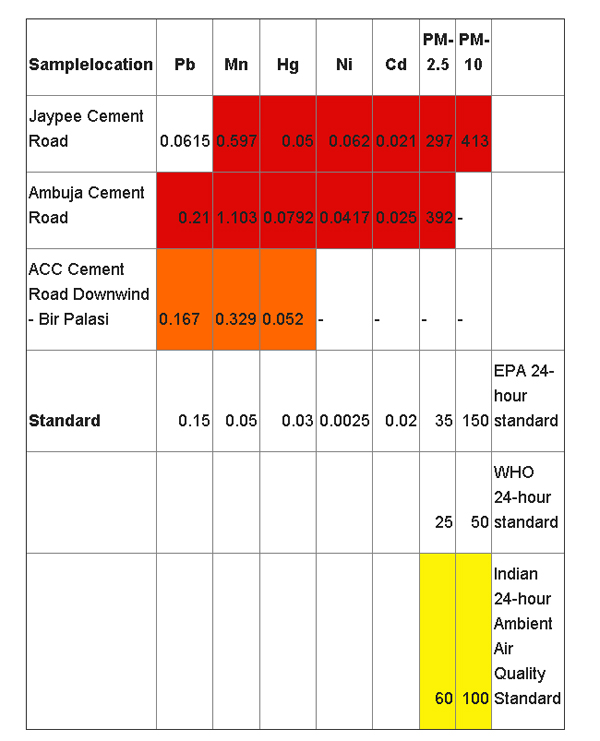 An IIT Kanpur study in November 2012 also revealed high levels of particulate matter, lead and arsenic in the ambient air in Solan. Sweta Narayan of Community Environmental Monitoring Campaign says the state pollution control board has been ignoring people's complaints. "We collected air samples in the area and found lead, mercury, nickel, manganese, cadmium, chloroform and methyl chloride, among other things, in the ambient air which far exceed the prescribed standards. The board has still not made any effort to monitor the pollution. In fact, when we questioned the board, the officials said they don't have adequate infrastructure and filters to collect samples for analysis," says Narayan.
Water pollution is also a rising menace in the area. Mansi Asher of Himdhara shared data collected by the NGO from the state pollution control board through file inspections and RTI Act. It showed more than 50 per cent of the units in the area were operating without valid consent from the board and about 60 per cent of the units in the area do not have effluent treatment plant (ETP).
D K Sharma, senior scientific officer with the Himachal Pradesh Pollution Control Board, who attended the hearing, says most of the air pollution in the area is because of traffic. "This industrial area is better than most other industrial areas in the country in terms of pollution control. All efforts are taken in the area to curb pollution. A central effluent treatment plant (CETP) will be built soon, necessary permission for building CETP has been granted," he adds.
The Himachal Pradesh High Court has also questioned the pollution control board over the water pollution in the area by taking up a case through its own motion in 2010. The court has pushed the authorities to set up a CETP in the area. Accordingly, a CETP of 25 million litres a day capacity has been proposed.
The non-profits, however, question the effectiveness of a one CETP for different effluents.
An independent panel invited to preside over the hearing recorded the testimonies and expressed serious concern over pollution in the area. The independent panel included Rajesh Kumar, head of School of Public Health, PGI Chandigarh, Anil Gupta, scientist, People's Science Institute, Dehradun, and senior journalist Rakesh Lohumi from the Tribune, Chandigarh. Lohumi suggested a moratorium on new industrial units in the area till the existing pollution is abated.
BBN industrial area was one of the 88 industrial clusters which were identified for Comprehensive Environmental Pollution Index study in 2009. Based on the study, a moratorium on expansion was imposed on 43 most polluted clusters; action plans were mandated in these areas to reduce pollution. Since the Baddi cluster stood in the 47th position, it escaped such mandate. The new revised CEPI study by the Central Pollution Control Board, based on which moratoriums were withdrawn and re-imposed recently, were only for these 43 clusters.
The non-profits plan to compile public concerns and submit a report to the officers concerned to push for pollution abatement in the industrial area.
Public pressure mounts to check pollution from industrial area in Solan