18th May 2015
By Express News Service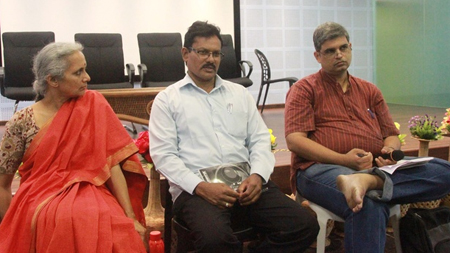 A panel discussing the alleged pollution by the Kodaikanal plant of Hindustan Unilever on Sunday
CHENNAI: Workers affected by the harmful effects of chemicals used in industries which also pollute the environment should be covered under a new policy which works towards their rehabilitation. This was a key appeal made by a group of activists led by 55-year-old S A Mahendra Babu, who worked at the now defunct Hindustan Unilever's thermometer factory in Kodaikanal, at a press meet held at Kaviko Arangam in Chennai on Saturday.
Babu, who suffers from infertility, weight loss and has a tumour in nasal passage, said that the workers at the plant were not educated by the company about the harmful effects of mercury, a raw material they handled day in and day out. "When we joined in the 80s, we were not even told what mercury is. Slowly, workers began to fall ill and complained of frequent health problems. Many had nose bleeding, headaches and stomach aches," he said. Around 100 women workers as well as wives of male workers had gynaecology related issues while 30 were rendered infertile because of the mercury pollution, he added. "The Central or the State government should create a policy for giving health care and rehabilitation for the affected remaining 575 workers and their family and children who are suffering for more than two decades," he added.
Dr D B Boralkar, a former member of the Supreme Court Monitoring Committee on Hazardous Wastes, said at the meet that the Tamil Nadu government had done appreciable work in the past to set a good example in working out compensation, but the momentum was somewhat lost now. "It is unfortunate that people are still suffering from the after-effects of the pollution," he said, referring to the recent death of a worker in Kodaikanal.
Public health expert Dr Rakhal Gaitonde pointed out that though the threshold value of mercury to cause harmful effects was 50 mg/ml, recent studies indicated that it caused problems in nervous system even at lower levels of exposure. "Mercury accumulates in the body and actual symptoms of the effects can even develop decades after the exposure. Urine tests of workers showed exposure values as high as 300 mg/ml as well. What more evidence is needed to get compensation and rehabilitation for these workers," he questioned.
Prominent environmentalist Nithyanand Jayaram pointed out that samples of mercury were found 20-30 km from the factory in a lake in Kodaikanal.
"There is a clear pattern between Bhopal gas tragedy and the Kodaikanal issue where environment standards are not maintained or regulations implemented. If the company is not punished in this instance by giving compensation to the affected, we might never know what the cost of such an incident is," said human rights activist and lawyer Usha Ramanathan.
Policy on Fixing Damages, Rehab for Workers Hit by Pollution Sought