23rd February 2014
By Pearl H Mohankumar
New Indian Express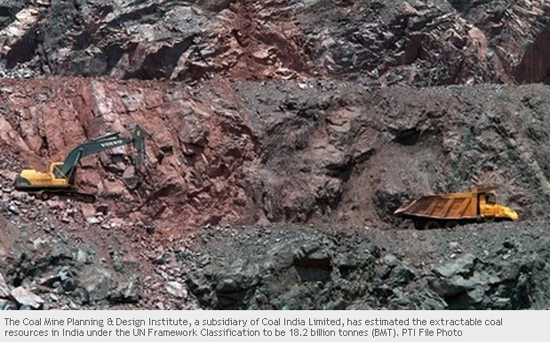 CHENNAI: Despite India's perceived abundance in coal reserves, usable coal will not last beyond 15 years, going by the rate at which it is being consumed in the country, warned former Union power secretary E A S Sarma here on Saturday.
Speaking on the sidelines of a convention on the "Real Face of coal", former Union Power Secretary E A S Sarma said that rational energy planning should shift the focus from creating new megawatts to saving megawatts in transmission and distribution. "Supply-oriented planning in energy, especially electricity, has outlived its time. Sooner we face this hard reality, the better it will be from the point of view of sustainability,""he said.
The Coal Mine Planning & Design Institute, a subsidiary of Coal India Limited, has estimated the extractable coal resources in India under the UN Framework Classification to be 18.2 billion tonnes (BMT). Considering the non-extractability of coal lying under dense forest growth and in constitutionally protected tribal tracts, this estimate would come down significantly. Assuming that this 18.2 BMT could somehow be extracted and used and considering the average coal requirement for power generation alone – as projected in the Integrated Energy Policy report of the Planning Commission extending up to 2032 works out to 1200 MMT per year – these reserves will not last beyond 15 years.
"Therefore one should face the bitter truth that India's coal reserves would not last more than 20 years on an optimistic basis," said Sarma.
Planning Commission's IEP study has projected the total requirement of electricity generation by 2032 to be 7,78,000 MW. Considering that coal and gas resources will last less than 15 years and the nuclear option is not only highly expensive but also unsafe.
"A time has come when all of us should recognise the unpalatable fact that we have reached the end of the tether as far as conventional energy sources are concerned." Sarma, advised that, "any sensible planner of energy should focus attention on saving scarce energy resources rather than frittering them away, as we are doing now."
Usable Coal to be Over in 15 yrs