1st July 2015
The Hindu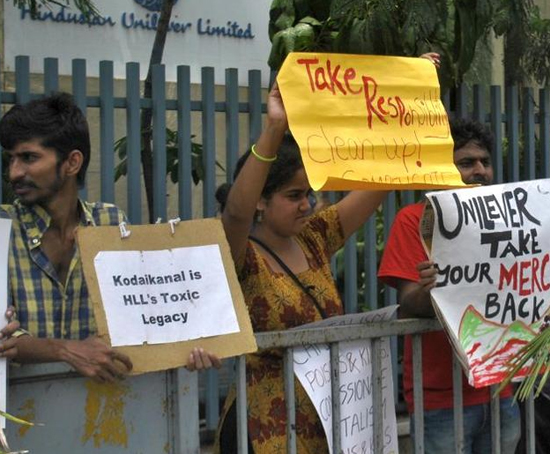 Protesters outside Unilever House in Mumbai on Tuesday, seeking rehabilitation of mercury-affected ex-workers of the company's thermometer unit in Kodaikanal. Zeeshan Khan
Exposure from HUL's closed thermometer unit in Kodaikanal
For E. Ramesh, it started off with headache, memory loss, skin and tooth infections. Exposure to deadly mercury for over four years has left him impotent, he says. "My wife had to undergo abortion eight times. There is constant pain in my left foot as the skin infection has affected the nerves," he said showing his left foot. Mr. Ramesh, 49, is among many ex-workers of the thermometer manufacturing unit of Hindustan Unilever Ltd. (HUL) in Kodaikanal, Tamil Nadu, who resigned from the company after exposure to hazardous mercury. The unit was shut down on March 7, 2001, after a spate of protests, but workers claim that tonnes of hazardous mercury waste continue to lie scattered around the unit compound in Kodaikanal.
On Monday afternoon, accompanied by 10 affected co-workers, their family members and activists, Mr. Ramesh staged a demonstration outside Unilever House in suburban Andheri where Hindustan Unilever Ltd.'s annual general meeting was scheduled.
"Since 1983, 48 workers have died for various reasons related to mercury poisoning," said Mahendra Babu, president of the Ex-Mercury Employees' Association.
A 2005 study on mercury pollution published by Elsevier Ltd., which had four experts from the BARC, Department of Atomic Energy, and Jawaharlal Nehru Technological University, Hyderabad, had concluded that the water, sediment and fish samples from Kodai lake showed elevated levels of mercury even four years after the stoppage of mercury emissions.
When contacted, a HUL spokesperson said "HUL has acted in an absolutely transparent and responsible manner since the issue was first brought to our notice in March 2001 by local NGOs. The company immediately closed the factory on its own and launched an investigation. There were no adverse impacts on the health of employees or the environment."
Mercury pollution victims seek justice