2 February 2010
A.V.Ragunathan
The Hindu
Photo: C. Venkatachalapathy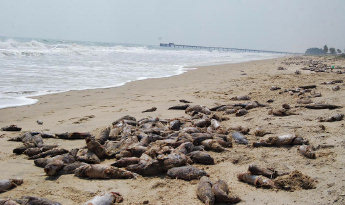 Sad sight: Dead fishes, swollen and deformed with rashes all over body,
were washed ashore in Cuddalore on Tuesday.
CUDDALORE: The six-km coastal stretch from Chithiraipettai to Rasapettai, near here, was found littered with dead fishes on Monday evening.
Strong odour from the putrefying fishes prompted the Village Administrative Officer to alert the Fisheries Department and the Tamil Nadu Pollution Control Board.
The swollen and deformed fishes with rashes all over the body were found strewn along the coastline villages of Chithiraipettai, Sothikuppam, Nochikadu, Thammanampettai and Rasapettai.
T. Devanathan (50), a resident of Nochikadu, told this correspondent that such a mass of fishes washed ashore was an unusual sight. The fishes had their fins and skins peeled off and blotch of blood frozen on their body.
He identified the fish species as 'keluthi' (cat fish), 'vanjiram,' 'paarai,' 'keechan' 'kanankathai' and sea cat, with 'keluthi' having suffered the most.
General Secretary of the Consumer Federation Tamil Nadu M. Nizamudeen said that the dead fishes were seen on the shoreline between the common effluent treatment plant of the SIPCOT industrial estate and the jetty of a private chemical company. It was for the officials to conduct a proper enquiry and laboratory tests to take necessary remedial and punitive measures. District Environmental Engineer (TNPCB) D. Sekar, and Assistant Director of Fisheries R. Ilamparithi, who inspected the spot.
Fishes found dead along Cuddalore coastline