7 June 2013
M. K. ANANTH
The Hindu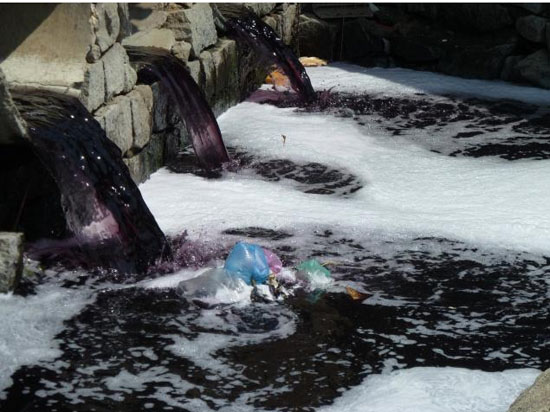 Effluents pouring into River Cauvery at Pallipalayam in Namakkal District, Tamil Nadu.
Photo: M.K. Ananth
Even groundwater in the area is polluted, say residents
With the water from Mettur dam hardly reaching River Cauvery in Namakkal district, the effluents discharged from the unauthorised dyeing units in Pallipalayam and Komarapalayam into the river has become its only source of water.
"Anyone crossing the bridge that connects Erode and Pallipalayam can easily see the extent of pollution caused to the river", says environmental activist R.K. Madeshwaran.
Pallipalayam and Komarapalayam towns developed primarily because of the large number of power looms, handlooms and textile processing units such as dyeing units. But the people are suffering without water and continuing pollution is adding to their woes", he adds.
People living in villages in and around the two towns say that they are unable to use water from open wells and bore wells due to the large scale pollution that has changed the colour of the water.
"The impact was not so high when water was flowing in the river as the dark coloured effluents were washed away by the force of the water", says K. Raja of Indra Nagar in Pallipalayam.
About three months ago the district administration made an announcement through revenue department officials, asking persons running dyeing units in Pallipalayam, Komarapalayam and nearby areas to stop operation of the units, in a bid to put an end to large scale discharge of effluents into the river till water released from Mettur Dam became normal.
A few units were also evicted for not taking the announcement seriously.
On April 19, the Tamil Nadu Pollution Control Board team led by District Environmental Engineer, M. Murugan, raided an illegal dyeing unit in an agricultural field at Kokarayanpettai near Pallipalayam. The landlord opened fire on them but they luckily escaped. The police registered a case and arrested the accused.
Since then, the TNPCB has not initiated major action against any polluting dyeing units.
S. Saravanan of the Association of Peoples Welfare Organisations in Komarapalayam says that the dry river has made it easy to identify illegal dyeing units as they can easily follow the path through which the effluent flows into River Cauvery. The polluting units should be identified and evicted with police protection. This could be the only solution for the damage caused to the minimum available groundwater", he opines.
Dyeing units in Namakkal feed Cauvery with effluents