March 29, 2015
Staff Reporter
The Hindu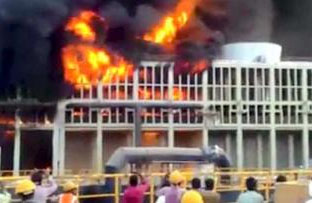 The burning cooling tower belonging to IL&FS thermal power plant at Karikuppam near Parangipettai in Cuddalore district on Saturday.— Photo: Special Arrangement
CUDDALORE: A major fire broke out in a cooling tower of a thermal power plant at Karikuppam near Parangipettai in Cuddalore district on Saturday. Though no loss of life was reported, the cooling tower belonging to IL & FS was completely gutted in the incident which occurred around 2 p.m.
Police sources said that a group of workers were engaged in welding in the site when sparks triggered the fire. Soon the flames started spreading to the cooling tower with thick smoke billowing out of it.
Workers who were at the site ran out of the tower.
The tower was currently under construction.
On information seven fire tenders from Cuddalore, Chidambaram and Parangipettai put out the fire after battling for over four hours. The exact loss is yet to be ascertained.
A case has been registered. Further investigations are on.
Major fire in thermal plant