March 2, 2016
Nityanand Jayaraman
The News Minute
The Chairman and Member Secretary of the TNPCB have failed to take action on complaints of pollution despite several reminders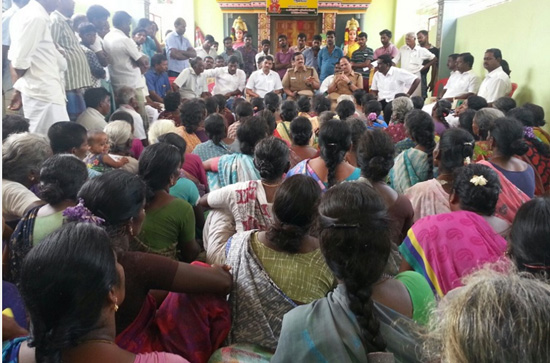 Police officials holding a meeting with protesting villagers at the village temple.
Failure by the senior officers of Tamil Nadu Pollution Control Board (TNPCB) to take timely action against pollution in SIPCOT Cuddalore has led to a volatile situation pitching the police against local residents in the normally calm Semmankuppam village.
Situation in the village became vitiated overnight as seven local farmers were arrested in the early hours of March 1 for their part in a protest against alleged pollution by Golden Fish Oil Company a day earlier. The seven are accused of non-bailable offences, including preventing government officials from discharging their duty. Villagers say that the arrest is ironical considering that their protest was aimed at forcing the TNPCB to discharge its duty.
Golden Fish Oil Co has been a target of citizen protests since the time it was set up two years ago. Just between June and September 2015, residents and members of the SIPCOT Area Community Environmental Monitors (SACEM) have sent at least 14 separate complaints about air and water pollution by the company. Senthil, TNPCB's Assistant Environmental Engineer in Cuddalore, confirmed receipt of the complaints saying "We have done several inspections and repeatedly recommended strict action. It is the head office that has to respond. We can only recommend. We have no powers of closure," he said.
On July 8, 2015 and August 29, 2015, TNPCB's Cuddalore office wrote to the Member Secretary, TNPCB, recommending closure of the factory citing serious and repeated violation of air and water pollution control norms. No action was taken and pollution continued unabated.
On October 28, 2015, the Revenue Divisional Officer issued a closure order citing repeated violation of pollution norms and invoking the Indian Penal Code Section 133 (A) – criminal nuisance. The company obtained an injunction on the RDO's order from the Madras High Court.
According to TNPCB's Senthil, "TNPCB head office sent an inspection team on 9 February 2016. They would have submitted a report by now. Action is pending."
Action has been pending from July 2015, when the matter was first brought to the notice of TNPCB's leadership.
Meanwhile, things took a turn for the worse on 27 February, when three women who were deepening a canal behind the fish oil factory as part of NREGA reportedly fainted and had to be hospitalised. On 28 February, women from Semmankuppam began an agitation. Although, the agitation was about pollution, it was the police not the TNPCB that responded. The Inspector of Police Mr. Seeni Babu who tried to dissuade the agitators allegedly "used words abusive of both men and women." TNPCB's inaction and the action taken by the police inspector has turned an environmental matter into a matter of offended sensibilities and wounded egos, say villagers.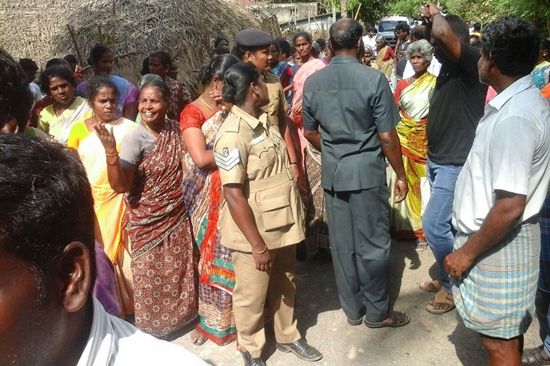 Police officials try to calm protesters down at Semmankuppam village
"The Inspector was recently transferred from Chennai. The words he used in Madras lingo – like pottai pasangala (effeminate men) or "ennadi panniduveenga? Ovvorutharaiyum thani thaniya pathukirendi" (You females can't accomplish anything? I will take care of each one of you individually." – may be okay in Chennai. But it is highly inappropriate in a village especially when addressing women in public. It was meant to be derogatory to both men and women. That is why the women were enraged," said S Ramanathan, a member of a voluntary environmental protection program called SIPCOT Area Community Environmental Monitoring (SACEM). The women gheraoed the inspector first, and then the TNPCB engineer and the Deputy Superintendent of Police when they arrived sometime later.
The arrest is reportedly on the basis of a complaint filed by TNPCB's Senthil. Senthil, however, was evasive when contacted for a confirmation on whether the arrests were on the basis of his complaint as reported in the media.He refused to confirm or deny the report. "The people blocked the DSP's vehicle. The police may have carried out the arrest to teach them a lesson," he said distancing himself from the police action. "Go ask the police."
Even as seven innocent villagers with no criminal record to their names are cooling their heels in Cuddalore sub-jail, the Chairman and Member Secretary of the TNPCB have failed to take action on complaints of pollution despite several reminders by their own district office.
Villagers in Cuddalore 'abused' and jailed for protesting pollution, but TN govt remains silent