MAY 11, 2017
TIMES OF INDIA NEWS NETWORK
Chennai: Coal ash released by thermal power plants in Ennore may be polluting the air in Poes Garden and Boat Club, a study by The Coastal Resource Centre has found.
Air samples collected in Poes Garden and Boat Club contained components of coal ash like calcium and iron in elevated levels, making the air quality in the upmarket city neighbourhoods 'unhealthy'.
The quality of air in Nallathanneer Odai Kuppam, a village near the thermal power plants was marked `very unhealthy'. It recorded a PM2.5 level of 220.30 microgram per cubic metre, against the permissible level of 60 microgram per cubic metre.
Environmental activist Nityanand Jayaraman said, "When winds blow from north to south, they bring polluted air from Ennore into the city. Currently winds are blowing from the south to north, carrying polluted air from industries in Alathur into the city."
Members of The Coastal Resource Centre collected 24-hour air samples from 11 locations in Ennore, Manali, Kodungaiyur, Kattupalli and parts of the city last month. The samples were analysed in Chester LabNet at Oregon, USA.
The air samples collected from Boat Club and Poes Garden were had particulate matter of 104 microgram per cubic metre and 101 microgram cubic respectively.
As per the standards of United States Environmental Protection Agency, the two neighbourhoods have `unhealthy' air. This is a matter of concern for children, senior citizens and people with heart or lung disease.
A Tamil Nadu Pollution Control Board (TNPCB) official said, "We are closely monitoring the emission levels around the thermal plants in Ennore to ensure there are no adverse effects."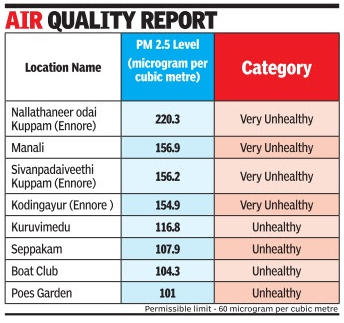 Coal ash from Ennore plant making air of neighbourhood unhealthy