Ambika Sharma
Tribune India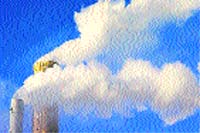 Solan, March 6 2011 With the detection of particles of several heavy metals far exceeding the safe limits in an air sample taken from the villages around two cement plants — JP Cements and Ambuja Cements Limited — in Nalagarh area, questions have been raised on the role played by the State Pollution Control Board (SPCB) as the people have been exposed to grave health risks.
The findings were released by the Nalagarh-based NGO Himparivesh and the Community Environmental Monitoring Campaign (CEMC) in Nalagarh today.
The air samples were analysed by Chester Labnet, an American laboratory, and these were collected by the NGO in November 2010, using the low volume air sampling technique. One of the samples was collected near JP Cements unit for cement grinding and blending, which is situated near Bagheri village. The other sample was collected near Ambuja Cement's unit situated near Nayagram village.
With the presence of nickel being three times the safe limits as per the Indian and US environment protection agency standards, the risk of acquiring cancer by the residents had become high.
Shweta Narayan from the CEMC said had the SPCB performed its duty, the air pollution of such magnitude would have been checked.
President of the NGO Jagjit Singh said children, pregnant women, persons already suffering from any disease and old persons were especially susceptible to the ill-effects of pollution.
Other members of the NGO, including its organising secretaries Khaminder Kumar, Surinder Kumar, Lakshmi Singh, general secretary Balkrishen Sharma, emphasised that the studies had shown a significant association between exposure to fine particles and premature mortality.
Other significant effects included aggravation of respiratory and cardiovascular disease, lung disease, decreased lung function, asthma attacks and problems like cardiac arrhythmia.
Narayan said the levels of manganese, cadmium, nickel and mercury had exceeded two to 12 times the safe limit as per the Indian and US Environment Protection Agency standards. This could cause an excessive risk to the central nervous system, feelings of weakness and lethargy, tremors and psychological disturbance, lung dysfunction and possible respiratory failure.
Exposure to lower concentrations may affect organs like kidney and brain and result in motor defects, irritability, nervousness, poor concentration, short-term memory deficits, tremulous speech and several other ailments.
The presence of calcium, which is an ingredient of limestone, was detected one thousand times the normal limit. This clearly proved that the plant of JP Cements was not using air pollution mitigation equipment and hence violated the conditions laid by the Ministry of Environments and Forests and its own measures listed in its Environment Impact Assessment report.
However, SPCB member secretary SK Singla was not available for comments.
Disease stalks villages around cement plants Pollution board, JP and Ambuja firms to blame: Study