Express News Service
Cuddalore
ENVIRONMENTAL concerns raised by villagers in the SIPCOT region of Cuddalore district have often gone unnoticed. However a recent incident sent residents of a village into panic and yet again drew attention to the impact of relentless pollution on their lives.
As per Sonnanchavadi villagers, on January 12, they saw a layer of white dust particles on their houses, plants, vehicles and even on clothes that hung outside to dry. Panic- stricken villagers immediately filmed the incident on their mobile phones and sent it to all higher officials of the district administration including Collector Chandra Sekhar Sakhamuri.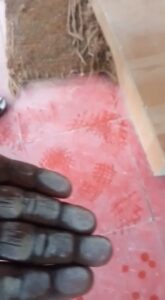 Speaking to express on the condition of anonymity, a Sonanchavadi villager said, "A thick layer of white dust particles formed on our floors and walls. We were horrified when we saw that and to make it worse, we could not even wipe it off entirely. This caused panic in the village. There is a Tata Chemicals company nearby and we suspect the pollutants must have come from there."
The SIPCOT Area Community Environmental Monitors(SACEM) had recently written to the district administration and other major departments seeking immediate action. "Pollution and its impact is very visible in the lives of villagers around SIPCOT Cuddalore region. We demand positive action rather than false promises from the officials this time", said a SACEM member.
Pollution: Layer of white dust sends village into panic