PRESS RELEASE
18 January 2007, Kodaikanal/ Chennai: More than 500 residents, mostly ex-workers of a Hindustan Lever mercury thermometer factory in Kodaikanal staged a 'salai marial' (road blockade) at Moonjikal, Kodaikanal, today protesting the death of 47-year old P. Natarajan, an ex-worker of the factory. Ex-workers said numerous workers were exposed to toxic mercury because of unsafe working conditions and the failure of the factory management to inform workers about the dangers of toxic metal. Mercury is a nerve poison that can cause subtle- to severe long-term effects, including kidney damage, even at very low concentrations. Agitated ex-workers have demanded a post-mortem on the body to assess the possibility of mercury-induced damage.
Natarajan, who had worked in HLL's factory for more than 18 years, was employed in the mercury filling area, one of the high-exposure areas. Urinary mercury levels reported for Natarajan by HLL indicate that his levels averaged 80 micrograms/litre over five samples taken by the company during his employment.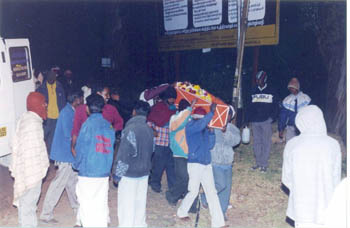 "HLL has caused irreparable damage to the health of the workers, more than 20 workers between the age of 22 to 35 years have died due to the poisoning from the factory in the last eighteen years," said Mahendra Babu, president of the Ponds-HLL Ex Mercury Worker's Welfare Association.
Highlighting the pathetic working conditions in the factory the workers informed that no information or safety measures were provided to any workers during their employment period. "Even though mercury is a neuro toxic chemical and a known poison, HLL chose to hide safety information from the workers and willfully poisoned them", said K. Gopalakrishnan, an ex-worker. "We came to know about the harmful effects on mercury only recently from friends and experts outside," added Gopalakrishnan.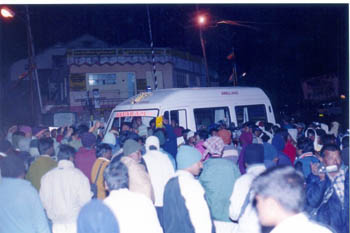 The HLL mercury plant was shut down in March 2001 after a long agitation by the workers. Representatives of Kodaikanal Environment Youth Service, United Citizen Council – Kodaikanal, Tamil Nadu Alliance Against Mercury, Tamil Nadu Women's Collective, People's Union for Civil Liberties and local residents also participated in today's protest and extended their support to the struggle of the ex-workers.
For more details contact:
Mahendra Babu (Kodaikanal) – 9443828568
(President, Ponds-HLL Ex Mercury Worker's Welfare Association)
=============================
Ponds-HLL Ex Mercury Worker's Welfare Association
No 42A, First Floor, 5th Avenue, Besant Nagar, Chennai – 600 090
Phone: +91 44 2446 3763
Email: kodaigopal@gmail.com
=============================
Read related news stories:
Ex-Mercury workers protest death of their co-worker; demand HLL to accept liability