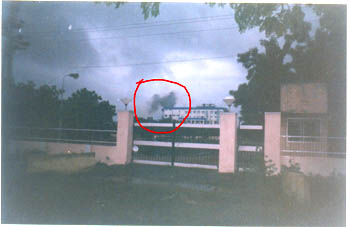 Cuddalore, 1 November 2007: Thick and dark smoke was noticed from SPIC unit in SIPCOT Cuddalore yesterday morning. According to the SACEM monitors the smoke was noticed around 6:30 am and continued for about an hour. The smoke was so thick and intense that it looked like a unit inside the factory was on fire. Since the wind direction was from the west to east (towards the river Uppanar) no smell was recorded.
A complaint about this incident was made with the Tamil Nadu Pollution Control Board (TNPCB) officials who later inspected the site and reported that the incident occurred due to the boiler malfunction inside the unit. TNPCB officials also mentioned that the problem was rectified within half hour of complaint.
Even though the problem was supposedly rectified yesterday, SACEM monitors reported another similar incident of smoke spewing out of SPIC today at about 1:30 pm which lasted for about half an hour. Another complaint has been made to the TNPCB and response awaited.
SPIC spews out toxic smoke due to boiler malfunction