Cuddalore, 14 March 2007: Acting upon the constant complaints of local fishermen and SACEM the TNPCB finally conducted a river patrol to check the river water quality and the illegal sources of effluent discharges into the river. The patrol started at 6 am today from Thaikal at North of SIPCOT and went on for about two hours before ending at Semmankuppam at South of SIPCOT complex. Four SACEM monitors and five SIPCOT residents primarily fishermen joined the District Environmental Engineer (DEE) and the Assistant Environmental Engineer (AEE) of TNPCB in the patrol.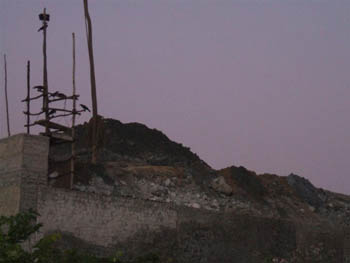 Hazardous waste dumped in the compound of Victory Chemicals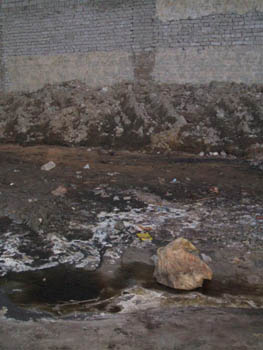 Hazardous waste leaching from Victory compound towards Uppanar
According to the SACEM monitors the patrol started from Victory Chemicals in the morning, the team noticed a fire cracker odour from the unit which was ranked at 6. huge quantities of hazardous wastes was openly dumped in the backyard the unit's premises and leachate from the waste was seen to be seeping out from the boundary wall towards Uppanar. The river patrol started immediately after the Victory inspection. The team got on to a boat and visited the areas near Shasun Chemicals. There was an acidic odour ranked at 5 near Shasun. Further down near SPIC Pharma the team registered an intense public toilet odour ranked at 7. The SACEM monitors brought to the notice of the TNPCB team the hazardous wastes landfill of SPIC on the banks of the Uppanar. They noticed two earth movers in the area and about 2 to 3 security personnels. The AEE took a sample of the water near the landfill and promised to share the results with the monitors and residents. They further moved southwards towards Pioneer Miyagi Chemicals. A faint dead body odour (ranked at 2) was registered. The TNPCB officials also pointed out at the sealed illegal effluent outlet from Pioneer which was blocked after TNPCB's instructions to the unit. The team further went down to the Chemplast site where the residents pointed out to the TNPCB officials the waste dumped into the river by the construction workers of Chemplast. No odour was registered near Arkema.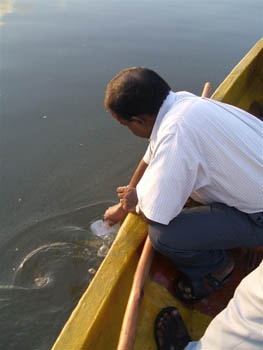 TNPCB officials taking a sample from Uppanar near SPIC pharma hazardous waste landfill

Uppanar is beautiful
Today's patrol is an extension of the ongoing joint pollution patrols of TNPCB, SACEM and SIPCOT residents in the SIPCOT complex. The team plans to conduct more such patrols and surprise checks on the units.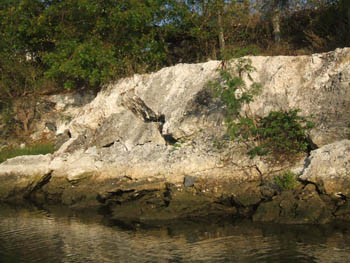 Hazardous waste behind Pioneer Miyagi Chemicals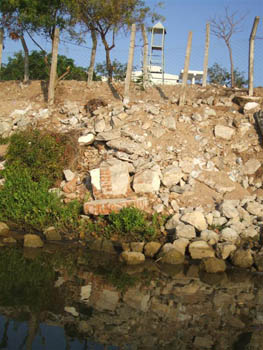 Pioneer Miyagi's construction debris into river Uppanar
TNPCB officials along with SACEM monitors and SIPCOT residents conduct river patrol