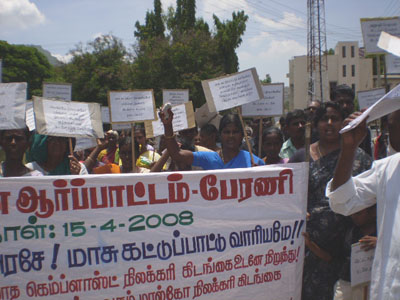 Mettur, 15 April, 2008: The Gonur West Agriculturalists Development Union (GWADU) organized a protest rally, demanding a stop to the construction and operation of Chemplast Sanmar's coal yard at the Mettur Railway Station. More than 350 people participated in the 7 km rally from railway station the office of the Revenue Divisional Officer (RDO). The protestors submitted a petition with their demands to Mrs. Shanti, RDO, Mettur Taluk.
The RDO had earlier sealed an agreement between a farmers' organisation and Chemplast Sanmar on November 24, 2007. The agreement stated that Chemplast Sanmar would take precautions to prevent coal dust from leaving the yard and polluting the surrounding areas. "We have enough trouble from the already existing coal yard. Another coal yard in Mettur will only cause more problems," says A. Mani, a resident of Mettur and member of GWADU. "The RDO is not competent to clear projects on environmental aspects. That is the job of the Pollution Control Board, and the company has failed to seek permission from the Board for the project."
In 2007, Chemplast commenced construction of a new coal fired thermal power plant, by misrepresenting facts to the TNPCB. Instead of declaring it as a new facility, the company claimed that the project was merely for converting the fuel from furnace oil to coal. According to TNPCB, the company's proposal actually requires an Environmental Impact Assessment, public hearing and environmental clearance from the Ministry of Environment and Forests. The Board also said that the company had undervalued the project costs to avoid the rigour of environmental clearance. The company had declared a project cost of Rs.45 crores, while TNPCB pegs it at Rs.230 crores. On March 25, 2008, the Environmental Appellate Authority ordered all construction and operation at the thermal plant site to stop. On 15 April 2008, Chemplast Sanmar filed a writ petition against the Environment Appellate Authority's Status Quo Order in the Madras High Court. The case was dismissed on the basis that the matter was being heard at the Environment Appellate Authority.
"The coal yard is integral to the thermal power plant, and its exclusion from the project proposal for the power plant is part of the misrepresentation by the Company to the Board," said G. Madesh of the Union. GWADU and the Periyar Dravida Kazhagam have said they will take their protest to the District Collector's office in Salem on 26 April.
Mettur villagers stage rally against illegal coal yard