Chennai, 26 January 2007: More than 11 tsunami orphans aged between 10 to 15 years, along with their troupe leader Gana Viji today performed a play on the threats of industrial pollution and toxics on the Cuddalore coast and fisher folk in the region. The play was staged at the fishing village of Urur Kuppam in Besant Nagar, Chennai. The play talked about the impact of toxics on the lives and livelihoods of the fisher folk and farmers in Cuddalore and depicted their struggle for clean environment.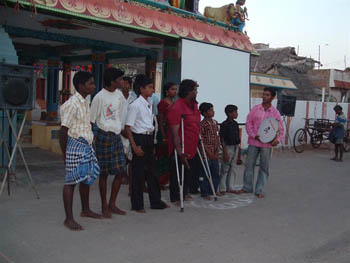 "I was assaulted by a series of stench when I visited SIPCOT last month, I could not believe that people could stay in such deplorable conditions and still fight for clean environment. This inspired me to spread the message of their struggle to different parts of the state", said Gana Viji, who wrote and directed the play. "The tsunami victims faced the disaster once and were affected for the rest of their lives, here is a community for which disaster occurs daily, that's why I felt that tsunami affected people would be best messengers", added Viji.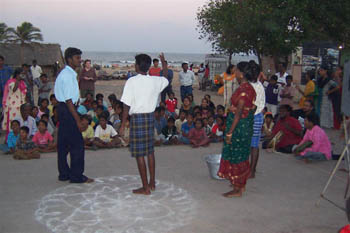 "I was deeply affected when I heard about the extent of pollution in SIPCOT. After hearing their stories I was convinced that I should do something to spread the message about Cuddalore", said 14 year old Nand Kumar whose role as a MLA in the play was widely appreciated.
The play is enacted by children and carries a message for the children to fight injustice and oppression. The play depicts the situations in the lives of residents of SIPCOT who get poisoned and suffer the impact of industrial pollution on a daily basis but at the same time fight for their rights. The play ends in a positive note depicting the victory of the villagers thus giving the young audience a ray of hope.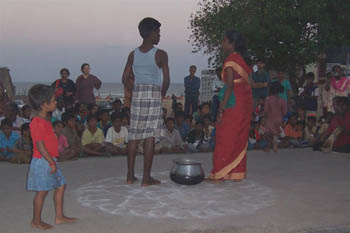 The troupe plans to travel to different parts of the state to stage the play and spread awareness.
Tsunami orphans perform a play on threats of pollution on Cuddalore coast