20 August 2007
Special Correspondent
The Hindu
Effluents being discharged in a crude manner, posing health hazards, ecological problems
Companies transporting effluents by tankers to be disposed of at isolated places: committee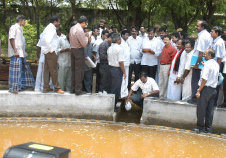 Official inspection: State Legislative Assurance Committee members at the effluent treatment plant at SIPCOT Industrial Estate in Cuddalore on Saturday.
CUDDALORE: Chemical units in the SIPCOT Industrial Estate here are flagrantly violating pollution control norms. Effluents are being discharged in a crude manner, posing health hazard and serious ecological problems, according to the State Legislative Assurance Committee.
The committee, led by T.Velumurugan, MLA, visited the industrial estate, the Neyveli Lignite Corporation, EID Parry and certain parts of Cuddalore on Saturday. Addressing a press conference, Mr. Velmurugan said the SIPCOT units hardly adhered to safety norms.
The stench was so overpowering that a couple of committee members started vomiting. Despite persistent efforts by environmentalists, social activists and the judiciary pollution of all kinds — air, water and soil — laxity in enforcement had emboldened the units to violate the norms, he said.
Reckless discharge
Certain units were producing chemicals far beyond the permitted level, and the waste disposal had left much to be desired. The untreated effluents were recklessly let into the sea or just in the open.
As the local people had started questioning the arbitrary waste disposal practices, the companies were stealthily transporting the effluents by tankers to be disposed of at isolated places and forestland.
Boundary transgression
For instance, Shasun Chemicals and Drugs Ltd transgressed the boundary and dumped effluents on the Karnataka side, prompting the authorities to warn the company and asking the Tamil Nadu Government to prevent such mischief.
The company was producing thrice the permitted quantity of sodium sulphate and was churning out hydrochloric acid and a solvent without licence. Similarly, TANFAC was producing sulphuric acid almost thrice the permitted quantity.
No clearance
The Loyal Super Fabrics had constructed buildings without clearance. In the SPIC Pharma, the effluent treatment plant remained idle and there was no evidence to prove that any attempt was made to operate it.
Issue notices
Mr. Velmurugan further said though the Cuddalore SIPCOT Industries Common Utilities Ltd (CUSECS) had set up an effluent treatment plant to treat discharge from 13 units, it was operating only to the fraction of its capacity.
He said the TNPCB should issue show-cause notices to the defiant units and the State Government should constitute a high-powered committee to make the units fall in line.
SIPCOT units flouting pollution control norms