29th March 2015
Express News Service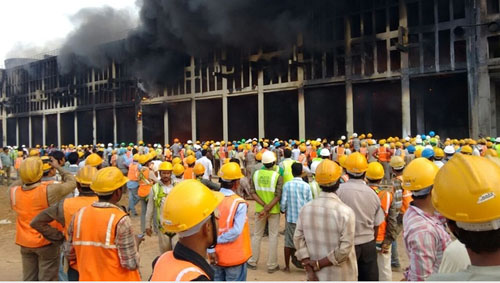 Smoke billows out of the cooling towers of the power company, near Chidambaram on Saturday | Express
CHIDAMBARAM: A major fire broke out at the IL & FS power plant in Karikuppam near Chidambaram on Saturday resulting in loss of property worth several crores of rupees. However, there were no casualties.
The under-construction thermal power plant suffered severe loss as the fire destroyed the cooling towers. According to source, "Welding work was going on in the cooling tower. There were thermocol sheets, oil cans and wires lying nearby. The sparks during the welding reportedly caused the fire and spread very fast. The workers ran for safety."
The source claimed that the approximate loss due to the fire could be around `5 to `7 crore. With the raging blaze spreading to the entire structure of the cooling towers, thick smoke engulfed the surrounding villages causing fear and panic among people.
About ten fire-tenders from Cuddalore, Chidambaram, Sethiathope, Parangipettai and other areas rushed to the spot and struggled for nearly two hours to douse the fire.
A fire engine cpming from Cuddalore met with an accident near SIPCOT. Four fire fighters were injured and were taken to hospital.
Meanwhile, the company has come under severe criticism from environmental activists and the CPI(M). The party's Parangipettai union secretary Ramesh Babu said "Accidents are continuously happening in this company. In the past one year, nine workers have died in various accidents. Safety measures are not being implemented properly by the company. Moreover, the company had assured the people of surrounding villages that it would replace about 500 huts with concrete houses. But no such action has been taken yet."
Arulselvam, an environmental activist from Cuddalore, said "A few months ago, the National Green Tribunal had quashed the environmental clearance given by the Ministry of Environment. The company moved the Supreme Court and got a stay on the Tribunal's order and now is continuing with the construction work. Who should be held responsible for this fire accident? The company should stop all the construction works immediately."
Upcoming Pvt Power Plant Gutted