On 12th October 2021, around 7 45 pm, an intense white fumigation incident was reported to have occured at Tagros new plant.  
The plant was clouded by intense white fumes that gave chemical odour. It was drizzling during the incident and the increased humidity of air during that time has caused holding of pollutants and pushing them towards the ground. One of the workers of the plant is reported to have had giddiness for a very short period and the passers- by in the adjacent Cuddalore-highways have faced difficulties.
The source of the fumes inside the plant was reported to have been arrested within a few minutes. TNPCB's DEE, Officials of Inspectorate of factories, Revenue department, Police department have inspected the site.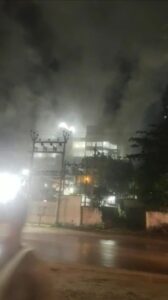 Fumes from Tagros
SACEM has made a complaint on the issue to the concerned authorities demanding preventive measures to be taken by industries and added attention from concerned departments to ensure safe air and health to passers-by and SIPCOT residents.
Fumes from Tagros, SIPCOT Cuddalore