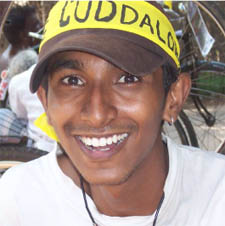 "Even if I am not around, I would want the message of environmental pollution to reach as many people as possible"
Gurubalan (1986-2006)
In November 2006, a collective of youth from Chennai embarked upon a cycle rally from Cuddalore to Chennai to observe the 22nd Anniversary of the Bhopal Gas Tragedy. The rally raised awareness about the appalling levels of pollution in SIPCOT Cuddalore and other pollution hot-spots in the region among the people along the way during the 300 km journey.
Gurubalan, a student and one of the most enthusiastic volunteers died in a tragic accident during this rally. The rally paused, but resumed after a few days. The spirit never died, it was only stronger now!
This scholarship is instituted to inspire young people in memory of Gurubalan, his zeal and commitment towards environmental issues.
---
Gurubalan Memorial Scholarships for documentaries / short-films by students
Grant of Rs. 5000/ – per project. Theme for films: 'Children and Pollution'
Films can be in Tamil or English. Duration up to 20 minutes.
Last date for submitting applications: 20th February, 2008
Application forms:
Rights to the film will rest with the director(s) and/or persons involved with the conceptualisation of the film.
---
Contact for details:
Gurubalan Memorial Scholarship
42A, 1st Floor, 5th Avenue, Besant Nagar, Chennai 600 090
E-mail: india.cem at gmail.com
Phone (044) 24463763
Gurubalan Memorial Scholarships