Deccan Chronicle
11th Feb 2013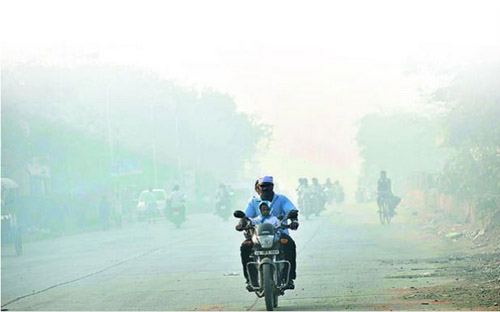 Smog from the dumpyard poses a risk to motorists on the popular Kodungaiyur road.
Photo credit: Deccan Chronicle
Chennai: Over 200 residents of Kannadasan Nagar on Su­nday staged a road roko on Tondiarpet High Ro­ad for two hours prot­esting against burning of garbage in the Kodun­ga­iy­ur dump yard. They complained that the ent­ire area had been engul­fed in a thick layer of smo­ke for the past week.
Ganesan Perumal, secretary, Ever Vigilant Cit­iz­ens Welfare Associa­tion said that residents, mostly women and children, blocked the traffic for over two hours from 10.30 am as their complaint to the city corporation to stop burning garb­age was not heeded. "Due to thick smoke, visibility on the road has become so poor one cannot see vehicles coming from the other side," he said, addi­ng that the residents wit­hd­raw the protest only after an assurance from the assistant police commissioner that a meeting with corporation officials would be arranged.
The residents are concerned that the dumping and burning of garbage near their homes is detrimental to their hea­lth and the environment. "Garbage from various parts of the city is dum­ped in our neighbourho­od. We have been fighting against the problem for several years but the civic body is neither taking steps to close the du­mp yard nor prevent bur­ning of garbage," said R. Shanmugham, a resident of Kodungaiyur.
The residents have be­en campaigning for shifting of the site. Over one lakh people living in Kan­nadasan Nagar, Kris­hn­amoorthy Nagar, Ezhil Nagar, Rajarath­nam Na­g­ar and other colonies on the fringe of the dumping ground are the worst affected.
While most municipalities across the country are striving to introduce good practices like composting, bio gas and dece­n­tralised waste management, the city corporat­i­on has failed to come up with any long-term solutions apart from a few ha­re brained schem­es th­at on­ly drain more public mo­ney without resolving the issue, said Dhar­mesh Shah of Community Environment Monitoring adding, "The only solution is to keep the org­anic wa­ste out of the waste dump by diverting it to comp­osting and biogas facilities. Not a single such facility exists in the city."
When contacted, a corp­oration official said that steps were being taken to extinguish the fire.
Dumpyard emissions anger Kodungaiyur