Chennai Online
11th Feb 2013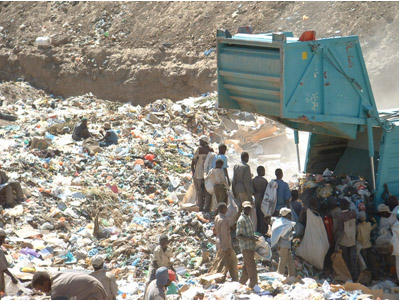 Photo credit: Chennai Online
They have lost count of the number of times a protest has been staged against the dumping of garbage in their neighborhood. We are talking about the plight of residents of Kodungaiyur. It is against the Chennai corporation to stop the garbage disposal in their residential area.
This Sunday the residents again protested against this and blocked the road creating a traffic jam in the Bharathithasan Road. They demanded that the Corporation find some place to dump the garbage. Things came to normal and the protest was dissolved only after cops intervened. The sight is pity to look as the motorists always have a losing battle against the black smoke that hangs low making it even difficult to breath.
A resident complains that her kids fall sick often and are not even healthy enough to climb stairs or even worse, go out and play. The stench and the smoke is everywhere where they live and the people are prone to illness and breathing problem. Another resident complains that they are not even able to switch on the fan as it circulated the acrid stench and smoke all through the house. Even the dishes cooked smell of it. Its really a pity sight and story. The residents plan on to continue the protesting till something is done from the government side to stop the dumping.
"The reason for this is Chennai has failed to follow what many other municipalities are following. Composting, biogas and decentralized waste management are being followed in most of the municipalities and that is to be followed in Chennai to reduce and thereby stop the public garbage dumping. There was no long time plan regarding the waste disposal and that has resulted in problems like this. The only way to control this is to diver the bio degradable waste to plants that will process them and convert them to energy". says Dharmesh Shah of Chennai-based Community Environmental Monitoring.
When questioned about this to the officials they replied that they are working on the issue vigorously and 4 land movers are assigned the task to remove the garbage and put out the smoke. At present a total of 269 acre near Kodungaiyur is used for garbage disposal.
Smoke of sickness over Kodungaiyur