12 April 2016
Tuba Raqshan
DT Next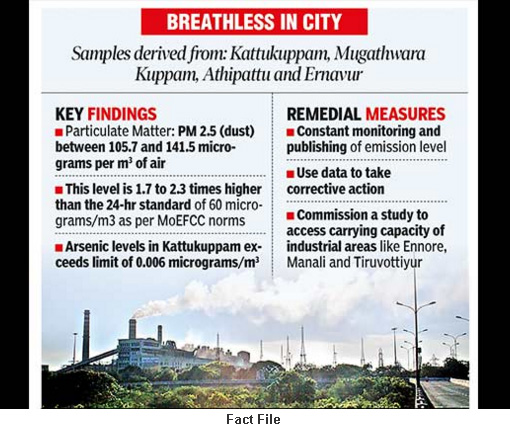 A recent report reveals that air quality in fishing villages and other residential areas of Ennore is far worse than the neighbouring industrial zone of Manali, demarcated as a critically polluted area, alarming residents of North Chennai.
Chennai: An analysis of the samples drawn from residential areas divulged a presence of heavy metals exceeding permissible levels, including manganese, lead, arsenic and nickel, which poses the risk of chronic respiratory as well as neurological diseases.
Particulate matter (PM) analysis showed PM2.5 levels in all four samples, ranging from 105.7 to 141.5 micrograms/m3. The study of air samples in Kattukuppam, Mugathwara Kuppam, Athipattu and Ernavur were 1.7 to 2.3 times higher than the permissible standards by Ministry of Environment, Forests and Climate Change (MoEFCC), which is 60 micrograms/m3.
The results of the samples revealed that aluminium, calcium, iron and silicon – four metals predominant in coal ash – are a strikingly high fraction of the total PM2.5, varying between 20.4% to 57.6% in samples. This shows that the overall PM2.5 in the samples has been impacted by the coal ash emissions from the coal thermal plants in Ennore.
&quotThe heavy metals such as lead, manganese, arsenic and others found in the air can lead to diminished mental development among children. Despite the pollution caused by thermal plants nearby, there is no quality health infrastructure available to residents,&quot said Pooja Kumar from the Coastal Resource Centre, which released this report.
Shweta Narayan, Community Environmental Monitoring Expert, said, in India, there are no standards governing the permissible levels of manganese, nickel and lead in the environment. &quotWe find these chemicals in dust particles that can harm everyone from toddlers to pregnant women. There needs to be a standard set. The arsenic levels we found exceeded the MoEFCC's annual standard of 0.006 microgram/m3 by 1.25 times. There is an urgent need for gathering more data,&quot she added.
Dr. Rakhal Gaitonde, Public Health Specialist, pointed out that increased pollution can lead to chronic respiratory diseases. &quotManganese, lead and other such heavy metals can affect the nervous system," he explained.
The residents are calling for a cumulative environmental and health impact assessment study to access carrying capacity of densely industrialised areas of Manali, Ennore, Tiruvottiyur and Kattupalli. Until this study is carried out, they want a moratorium on any expansion of the industries.
Selvarajan, a fisherman and President of Kattukuppam's Fishermen's Cooperative Society, said repeated complaints to the Tamil Nadu Pollution Control Board (TNPCB) went unheeded. &quotThe pollution by these plants is not only affecting our health but also our livelihoods. We want the issue of this pollution to be tackled and healthcare facilities provided by the government and industries,&quot he added.
However, an official from the TNPCB said, &quotThe air quality levels are being continuously monitored in Ennore. We are also monitoring the exhaust released by the industries and coal plants. The higher levels may be due to some meteorological conditions. We monitor the levels periodically and the results are published in our website.&quot
Air pollution: Manali neighbour Ennore now gasps for breath