Saturday, Mar 06, 2004
The Hindu
Online edition of India's National Newspaper
By Our Special Correspondent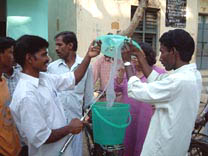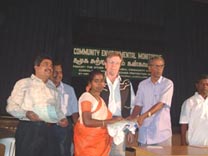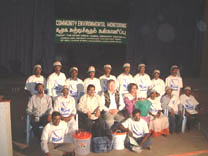 CUDDALORE, MARCH 5. People of the six villages in the vicinity of the SPICOT industrial estate here were imparted training on how to monitor air-pollution and to collect air sample on a day-to-day basis with a simple and low-cost device.
The programme was jointly organised by the Federation of Consumer Organisations Tamil Nadu and Pondicherry (FEDCOT) and the Global
Community Monitor (GCM) in the USA.
The Director of the GCM, Denny Larson, gave hands-on experience to the villagers on how to handle the "bucket brigade" as an air-sampling tool. He said the sampler was a plastic bucket with a detachable bag inside it, and provided with a nozzle to suck in air from the intended areas.
The device could be used to detect many gases or their compounds such as VOCs (volatile organic compounds) such as benzene, toluene, xylenes, methylene chloride, tetrachloroethane, and acetone, and, sulphur compounds such as hydrogen sulphide, carbonyl sulphide, carbon disulphide, seven types of mercaptans and five types of thiophenes.
The general secretary of the FEDCOT, M.Nizamudeen, said the move to educate the villagers on collecting air sample was first of its kind in the country. He said the people residing near the SPICOT industrial estate were suffering from breathing problem and throat ailments owing to polluted air.
The people of the Sanglikuppam, Sonaganchavadi, Kudikadu, Chennankuppam, Echankadu and Pachianpuppam were constantly exposed to toxic gases. Whenever, the pollutant level in air reached the intolerable level, they complained to the Tamil Nadu Pollution Control Board and the units concerned.
But Mr Nizamudeen alleged that the units were taking only temporary measure to control pollution, but after a while they felt free to let out all kinds of gases into the atmosphere. He said once the villagers were trained to collect the air samples through the bucket device, it could be despatched by courier to the GCM.
The consumer activist said that the GCM, which was equipped with a modern laboratory, would send back the test reports. These would then be forwarded to the authorities concerned for taking remedial measures.
NOTE: GCM does not own a modern lab, but uses an EPA certified lab in Simi Valley, Calif.
Training on Air-pollution Monitoring and Sample collection – SIPCOT, Cuddalore