03 January 2016
By Jonathan Ananda
New Indian Express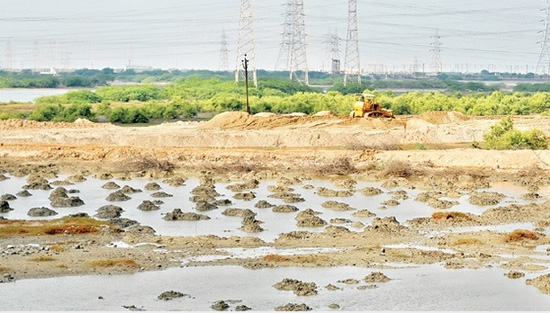 The battle between the Ennore Port and environmental activists, supported by villagers from surrounding hamlets, in Ennore, Tamil Nadu, intensified recently after a group of 200 villagers descended with their boats on two dumping sites, bringing work to a halt. As many as 70 boats and 200 fishermen from hamlets Mugathuvaarkuppam and Kattukuppam came to the sites along the banks of the Kosasthalaiyar river around 10 am, demanding that the workers stop all work.
"These people are filling up parts of the river that are the direct source of our livelihood," said A Venkatesh, a leader of the Mugathuvaarkuppam Gramam Association. "These mangroves are the places where prawns, and even crabs, spawn. If they fill these up, it's going to affect a large portion of our income," he said.
Their accusation against the Ennore Port is that dumping dredged sand along the river bank at Ennore Creek is illegal.
SUSTENANCE ISSUE
200 fishermen and 70 boats come to two dumping sites along the Kosasthalaiyar river, ask workers to stop dredging work
They claim that dumping of dredged sand along the river will affect their livelihood, as the spot is a key breeding area for prawns and crabs
Sand Dumping at Ennore Creek Riles Locals