29th March 2016
Nityanand Jayaraman
By Express News Service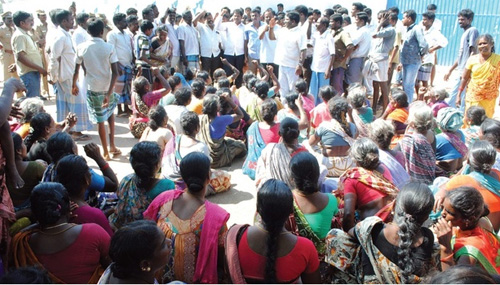 Locals and PWA leaders holding a protest near Cuddalore Old Town on Monday, seeking justice after Dalit youth Karl Marx's suicide | express
CUDDALORE: People of Nochikadu and leaders of People Welfare Alliance (PWA) staged a protest on Monday alleging that a Dalit youth committed suicide because of police pressure.
A private fish oil company was functioning at Semmankuppam village near Cuddalore. People of Semmankuppam and neighbouring villages have been complaining that foul smell emanating from the company has affected their health and they alleged they could not even sleep properly during the night. Because of this, the people from surrounding villages and the supporters of the company had locked horns several times.
Matter had often been taken to the police. Police had registered cases in this regard.
When Karl Marx (25), a Dalit youth, committed suicide in his house on Monday morning, his relatives and the functionaries of VCK and PWA placed the body on the road and held a protest.
Superintendent of Police S Vijaya Kumar rushed to the spot and held talks with the protesters.
Police moved the body to the government Cuddalore hospital.
Following this, a peace meeting was held in Cuddalore. Rural Development Officer Uma Maheswari presided over it. VCK parliamentary constituency secretary P Thamarai Selvan and CPM district secretary T Arumugam, took part in the meeting. Relatives of Karl Marx were also present.
The deceased youth's mother A Vasuki told the officers, "On March 25, Karl had gone to the company to complain about foul smell.
On the same day, police from Cuddalore Old Town station came and threatened him.
Later, 10 unknown persons came to our house and issued a death threat."
Dalit Man Ends Life, PWA Leaders Smell Foul Play