12 April 2016
By S V Krishna Chaitanya
The New Indian Express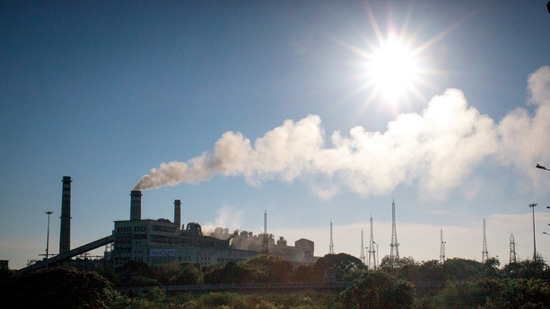 There is a proposal to set up three more power plants in the area Amirtharaj Stephen
CHENNAI: Chennaiites may not care that New Delhi is the world's most polluted city (WHO), but knowing a suburb in the city is not too far behind can give anyone pause. Ennore, 16 km north of Chennai, is bound the by Korttalaiyar River, Ennore Creek and the Bay of Bengal, and is fast rising up the ranks among the most polluted places around Chennai.
Shockingly, Ennore air quality is found to be far worse than the air quality in Manali, a petrochemical industrial zone that was notified as a critically polluted area. With concentration levels of PM2.5 ranging between 105.7 and 141.5 micrograms per cubic metre of air, Ennore is engulfed in a dust storm that could claim hundreds of lives if appropriate measures are not taken.
This data was brought to light by Chennai-based Coastal Resource Centre (CRC), an NGO working towards coastal environment protection. A report titled 'Unfit to Breathe', revealing air quality around the thermal power plant cluster in Ennore, was released on Monday. As per the report, the air samples were taken from roof-tops of the houses in Kattukuppam, Mughathwara Kuppam, Athipattu and Ernavur villages all within 2-3 km radius of the nearest plant or ash ponds, using filters fitted to a low volume air sampler and analysed for PM2.5 and all heavy metals. An accredited laboratory in Oregon, USA, conducted the analysis and shared the results.
Public health expert Dr Rakhal Gaitonde said PM2.5 pollutants are minute carcinogenic particles, which penetrate the lungs, entering straight into the blood stream. The concentration of these particles is 1.7 to 2.3 times higher than the 24-hour standard of 60 ug/m3 prescribed by the Ministry of Environment, Forests & Climate Change.
Pointing at the root cause of the crisis, city-based activist Pooja Kumar, working with CRC, said though Ennore is a hydrologically sensitive area, the place has become a victim of rapid industrialisation and over-exploitation. Today, Ennore has become the 'power capital' of Chennai, hosting the North Chennai Power Cluster. The existing capacity of the four thermal power plants is 3,780 MW and there is a proposal to add another 3,320 MW by setting-up three new plants. The area also houses two ports. "All this has taken heavy toll on the entire ecosystem — air and water," she said.
Said environmentalist Nityanand Jayaraman, "It's not just PM2.5, but the levels of heavy metals like manganese, lead, arsenic and nickel are also at dangerous levels." There are no standards in India for any of these heavy metals, except arsenic, in ambient air. Speaking to CE, a TN Pollution Control Board official acknowledged that the air quality in Ennore is a matter of concern, but refused to draw parallels to the situation in New Delhi. "We conduct regular tests and monitor the situation. Also, the thermal plants are directed to adopt the best practices. Only recently, the Environment Ministry has notified revised norms of emission for coal-based thermal plants," the official said, indicating the situation will improve in future.
Key findings of CRC report
Arsenic levels from Kattukuppam exceed the MoEF annual standard of 0.006 µg/m3 by 1.25 times. Arsenic cause cancer and skin sores
Manganese levels in all four samples were above the California Office of Environmental Health Hazard Assessment standards by 1.2 to 2.5 times. Manganese damages central nervous system
Lead levels in two samples exceed US EPA National Ambient Air Quality Standards for long-term exposure. Lead is a known neurotoxin
Nickel levels in one sample at Athipattu exceed the California standards by 1.2 times. Nickel affects the respiratory and immune systems
Ray of Hope
Under the revised norms, the new power plants (to be commissioned from January 1, 2017) will have to achieve 'zero waste water discharge' standard and keep strict tabs on emission of all pollutants. In case of PM10, the new plants will have to restrict the emission to 30 mg per cubic metre as compared to 100 mg per cubic metre in older plants. A statement from the ministry reads, "The new standards are aimed at reducing emission of PM10, Sulphur Dioxide, and Oxide of Nitrogen, which will in turn help in bringing about an improvement in the ambient air quality in and around thermal power plants."
Fishermen want health survey
A six-village coalition to save the Ennore Creek has called for a moratorium on expansion of thermal power plants and other industries in the region, besides demanding a health survey. R L Srinivasan, president, Anaithu Ennore Minava Grama Kootamaipu, said the fishermen living in these villages need to visit the hospital once in 15 days due to various ailments – and the closest hospital is 10 km away. "Only a detailed health survey by the authorities will reveal the root cause of wide-spread diseases. Heath problems like asthma, decrements in lung function and chronic obstructive pulmonary disease are taking life out of these villages," he rued. Both inland and marine fishing have been greatly affected by the reclamation and contamination of the creek, Buckingham Canal and the estuary. Fish resources have declined and the quality of catch is poor.