March 24, 2013
STAFF REPORTER
New Indian Express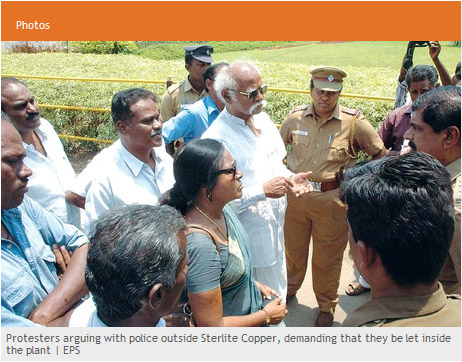 A suspected leak of noxious gas from the Sterlite Industries plant in Thoothukudi caused nausea and skin irritation among a section of local residents here on Saturday.
While Sterlite officials denied any chemical leakage from the factory, Thoothukudi Collector Ashish Kumar said a preliminary inquiry revealed that Sulphur Dioxide (SO2) had leaked from the Sterlite plant. "I have directed the Tamil Nadu Pollution Control Board (TNPCB) officials to undertake a detailed study and submit a report," Kumar told Express.
Early in the morning residents living in localities surrounding the Sterlite plant complained of irritation and nausea. Within no time, doctors began receiving patients in sizeable numbers. Doctors, paramedical staff and school children were seen wearing protective masks.
"Around 7 am, when I went for my walk, I experienced irritation on my skin and mouth. Since it was caused by air pollution, I suspected that gas must have leaked from the Sterlite plant," said Selvaraj, a contractor who has worked in chemical companies in Thoothukudi.
A resident of Sankarapuram, Rani, complained that due to the gas leak leaves in the trees had withered at Fathima Nagar and Sankarapuram and pointed to withered leaves in a drumstick tree at her house.
Rejecting the allegations, a Sterlite spokesperson claimed that the Sulphuric acid plant had been closed for two days and hence there was no possibility of SO2 leak.
"Another private industrial unit located nearby is also known to use a similar compound and the leak could have originated from there," he alleged.
However, some Sterlite workers claimed that the plant was operational at around 6.30 am and shortly thereafter it was shut down due to the leak.
Meanwhile, Collector Ashish Kumar said the SO2 leak was within the danger limit. "The preliminary report says the gas emitted was 70 Mg/lit cube as opposed to the danger limit of 80 Mg/lit cube," he said.
TNPCB officials inspected the Sterlite plant during the day and held elaborate discussion with Revenue and Health Department officials.
Environmental activist Nithyanand Jayaram recalled that the Madras High Court had ordered the closure of the Sterlite plant but the Supreme Court had granted a stay on the operation of the order in 2010.
Noxious gas triggers scare in Thoothukudi