March 24, 2013
STAFF REPORTER
The Hindu
Environment activists blame the Sterlite Copper Company for this incident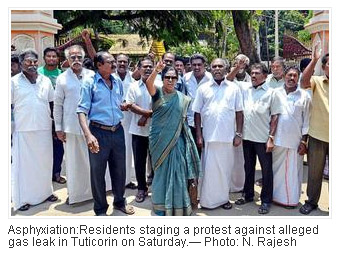 TUTICORIN: Residents complained of asphyxiation following the alleged leakage of a noxious gas between 5 a.m. and 8 a.m. on Saturday.
Residents from Tuticorin town, New Colony, market area, Perumalpuram and SIPCOT area said they experienced sneezing.
Environmental activists blamed the Sterlite Copper Company and sought its closure.
They staged a demonstration near Rajaji Park on Palayamkottai Road.
Following the incident, officials from the Tamil Nadu Pollution Control Board, Joint Chief Inspector of Factories, Revenue Divisional Officer K. Latha and Tuticorin Tahsildar Alwar reached the Sterlite company and inspected the copper smelter unit.
Official sources said that ambient air pollutants, if any, would be analysed in monitoring stations.
Meanwhile, Collector Ashish Kumar convened a meeting with officials and directed them to submit a report soon based on the analysis.
According to a statement from the Sterlite company with regard to the alleged gas leak, a team of government officials visited the copper plant that had been under preventive maintenance since March 21.
The plant was restarted on Saturday around 10 a.m. "During the visit of the officials, environmental parameters at Sterlite were found to be within the limits," the statement said.
When contacted, Collector Ashish Kumar said that preliminary inquiries suggested that there was a leak of sulphur di-oxide.
Only a detailed report by the Tamil Nadu Pollution Control Board authorities would throw more light on the issue, Ashish Kumar added.
Said Varadan, a resident of New Colony, who is involved in newspaper distribution, "There was an unusual irritation and suffocation in the early hours when I went out to the market place."
At Perumalpuram here, Ramalingam, another resident, said many residents complained of burning sensation in their eyes.
As word spread in the market area, many vendors and casual workers voiced a similar complaint while loading and unloading vegetables.
Tuticorin residents allege gas leak