February 02, 2011
Special Correspondent
The Hindu
These tsunami-ravaged islands face huge sea erosion
 Photo: C.Venkatachalapathy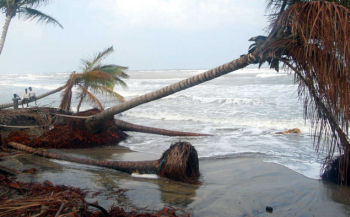 Matter of concern:The tsunami-hit Chinna Vaikkal islet
is being gradually swallowed up by sea incursion.
PICHAVARAM: At least five of the tsunami-ravaged islets surrounding  the Pichavaram mangrove forests are facing the threat of extinction because of continuous sea erosion. The endangered islets are: Chinna Vaikkal, M.G.R. Thittu, Kannagi  Nagar, Mudasal Odai and Pillu Medu, all part of the Killai Town Panchayat. Of these Chinna Vaikkal is badly affected as its original land spread of 10 acres has now dwindled to hardly two acres and other islets have conceded about 100 square metres of land to the sea. Prior to the tsunami, these islets endowed with lush coconut groves
were bustling with activity.
After the tidal waves lashed the coast on December 26, 2004 and claimed 176 human lives on these islets the fishermen families shifted to safer places. The coconut trees remaining on these islets are being gradually  uprooted by the intruding waves. It is only a matter of time before these islets disappear into the sea.
Chinna Vaikkal has the sobriquet of "Kanyakumari of Cuddalore" because one can watch from its idyllic surroundings the sunrise in all its glory. It also served as an ideal launching and berthing points for fishing vessels on a long voyage.
For promoting the place as a coveted tourism destination the district administration had organised "Dawn festival" on Chinna Vaikkal for two consecutive years in the post-tsunami period and put up elevated hutments and basic amenities at a cost of Rs 10 lakh.
All these were now lost to the vagaries of weather and only the fallen stumps of coconut trees now stand testimony to the once thriving habitations.
The islets have a critical role to play in safeguarding ecology and conserving the mangrove forests.
Killai Town Panchayat chairman S.Killai Ravindran told The Hindu that post-tsunami, only three of the five creeks were existent and these too were heavily silted, posing problem to the fishermen in steering the fishing vessels through the mouth, a gateway to the sea.
It was a matter of concern that the silt advancing through these creeks would be harmful to the mangrove forests and would also affect fishermen's livelihood.
Mr. Ravindran said that an amount of Rs. 40 lakh sanctioned for carrying out relief works for the Jal cyclone-affected areas, but which was lying unused, could be utilised for putting up groynes along these creeks to address the silt problem.
The protection of the islets would be vital for safeguarding the mangrove forests spread over 3,000 acres because of whose existence scores of villages remained unscathed by the tidal waves, he added.
Islets near Pichavaram on the verge of extinction