21st May 2015
Staff Reporter
The Hindu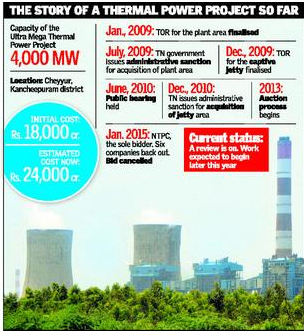 Experts say price of electricity from the 4,000-MW project will be fivetimes higher than the tariff at other ultra mega power plants
The proposed 4,000-MW ultra mega power project at Cheyyur is financially not viable and would put an upward pressure on electricity tariff. This would also make electricity unaffordable for consumers, says a report.
The report prepared by US-based Institute for Energy Economics and Financial Analysis (IEEFA) for Chennai-based Indian Institute of Public Policy explains that in the first year of its operations, which is 2021, the tariff for consumers would be Rs. 4.9 per unit. On an average, tariff would be Rs. 5.95 per unit over its 40 year life.
"This pricing is five times higher when compared to the tariff at the other ultra mega power plants (UMPPs) and coal-fired power plants," says Jai Sharda, Managing Partner, Equitorials, a financial analysis firm that studied the economic viability of the Cheyyur plant.
The four other UMPP projects in India have a lower tariff cost of Rs 1.15 per unit to Rs 3.7 per unit when compared to Cheyyur. Mr. Sharda says that there is a problem with the UMPP model itself. "There are several financial defects in this model and this needs to be addressed," he says.
Earlier this year, the Ministry of Power terminated the bid process after seven private players pulled out saying it was unworkable. The Union government then promised to revise the bidding guidelines. "This again will only burden the State Electricity Boards and the consumers," Mr Sharda says.
According to the report, coal constitutes 55 per cent of the annual expenditure for the plant. The project is being developed according to the assumption that it would require an annual 12 million to 14 million tonnes of imported coal. Such a business model would put its coal costs at roughly twice what they would be if domestic coal were used. An increase in coal price would further push tariff price up.
M.G. Devasahayam, former chairman of the Haryana Electricity Board, says, "If we tap solar and wind energy, we will not need such projects in Tamil Nadu." He also questioned whether the TNEB can afford to buy power from the UMPP despite its losses and whether consumers can afford to pay such a hefty price.
Mr. Sharda notes that with the existing pipeline of power projects in Tamil Nadu, the need for construction of a plant at Cheyyur is diminishing.
Environmentalists unhappy
The Rs. 24, 200-crore ($ 4 billion) worth UMPP at Cheyyur, a taluk of Kancheepuram district, has always been a controversial subject among environmentalists and locals.
Tamil Nadu will receive 1,600 MW of the electricity from the plant.
The lead utility for the project is Tamil Nadu Generation and Distribution Corporation Ltd.